Black Sand Dive Retreat
Black Sand Dive Retreat is located on mainland Manado, and is part of Kasawari Village (but don't mix it up with Kasawari Resort which is far away at Makawide Village and the dive site of the same name). Black Sand is also smack in the middle of TK1 and Hairball2, two of Lembeh's excellent dive sites, and now enviably the house reefs of Black Sand.
It's run by Bruce and Fung Moore, whose friendliness, helpfulness and sheer nice-ness pervade the entire resort. It is currently DWS' favourite place to stay in Lembeh.
Black Sand Dive Retreat is for older divers who aren't too keen on road trips or hardship type stays, or divers who aren't really fans of the no-frills experience (me! me!), and for whom accommodation is probably an equally important factor as the diving when deciding where to go for a dive holiday. This resort is for divers who don't mind paying a little more for a good, comfortable land experience that's catered for divers.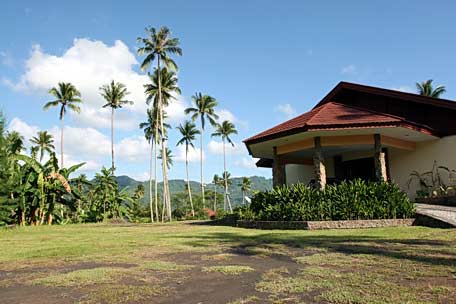 The resort's main building where guests eat their meals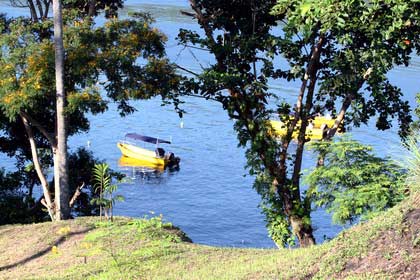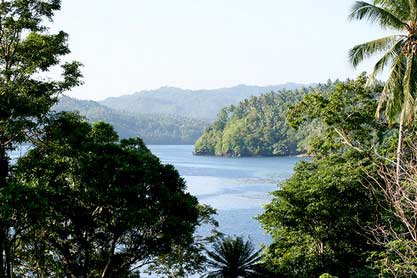 The resort is built on the hillside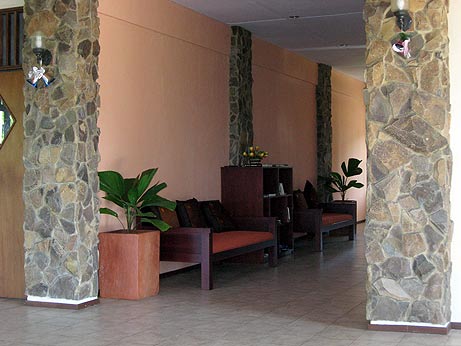 The entrance has a bookshelf stocked with good marine life guides and dive magazines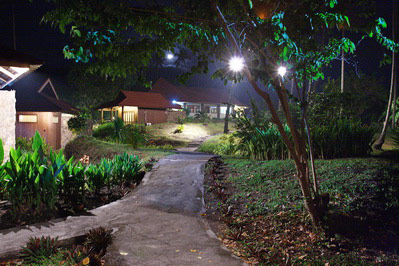 The resort by night
---
Room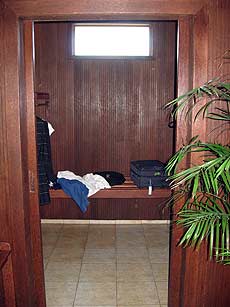 Walk-in wardrobe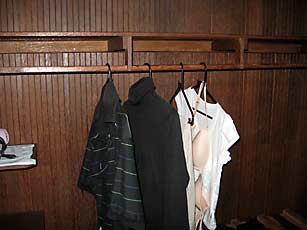 ... with plenty of hanging space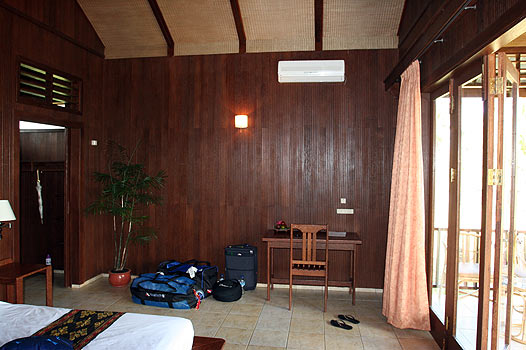 Floor-to-ceiling glass doors let in lots of natural light by day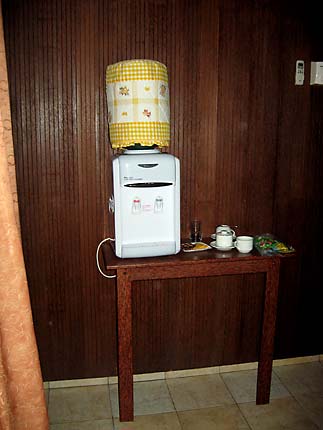 Your own supply of drinking water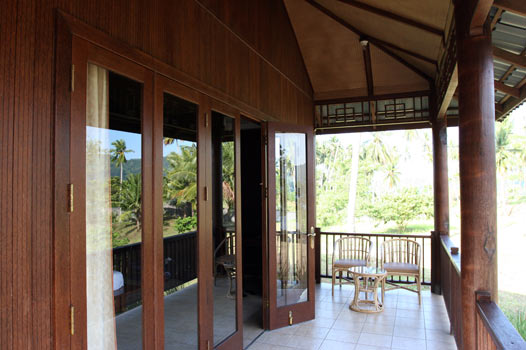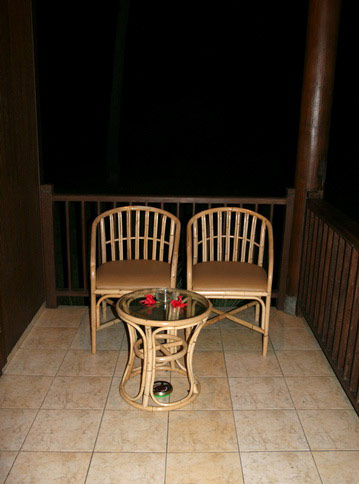 Verandah
---
Bathroom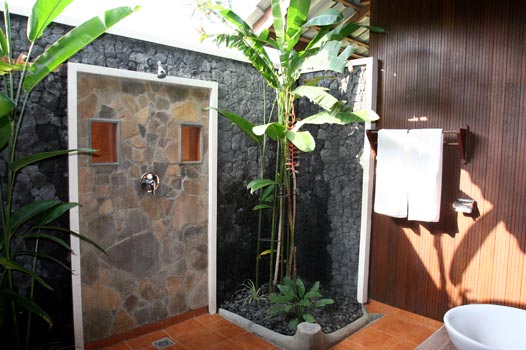 Very spacious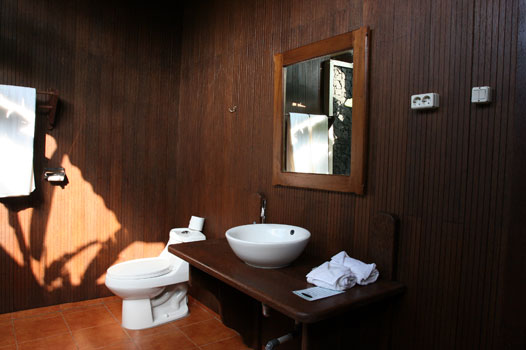 The toilet is in a dry area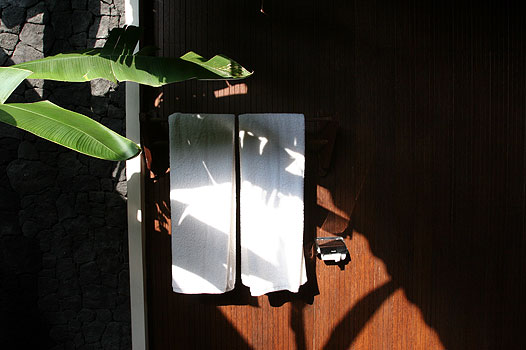 Fluffy towels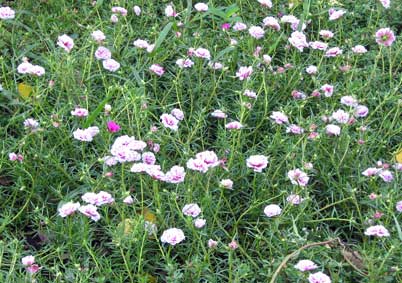 Morning glories greet you in the morning

So, if you're looking for a resort which is not big on mass marketing and is not focused on housing as many divers as possible and sending schools of divers on large boats to the same dive sites, plus a resort that offers more than airconditioning and hot running water, this is an excellent place to consider.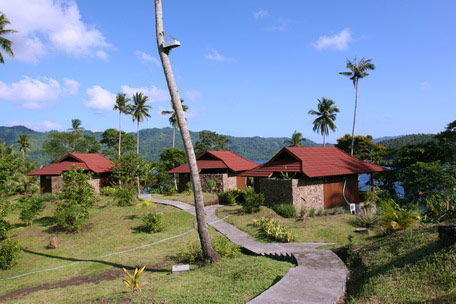 The resort is built on a hilly piece of land, with the dive centre on the beach, and the dining area and rooms higher up. Tall coconut trees and morning glory flower beds are everywhere, with expanses of grass and plenty of greenery.
We arrived by road, through a narrow winding one-lane bumpy road (makes you feel like going to the toilet), where speed strips are made of the trunk of a coconut tree sliced in half lengthwise, and if faced with an oncoming car, one car will have to go onto the grass. We drove through a modest gate and all this while we had no idea what to expect when suddenly we're driving up a stone-laid driveway to the lobby and we're looking into the spacious common hall. We got out of the car, walked past a sofa and a tempting book case of marine life books and dive magazines, and then we're invited to sit at the table where we were served a smoothie of banana, pineapple and other fruits.
We filled in the usual forms and then we were shown to our room, by which time I was sufficiently impressed.
The resort's landscaping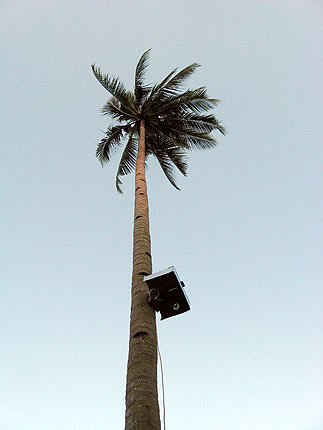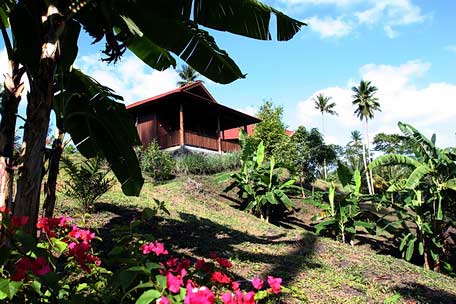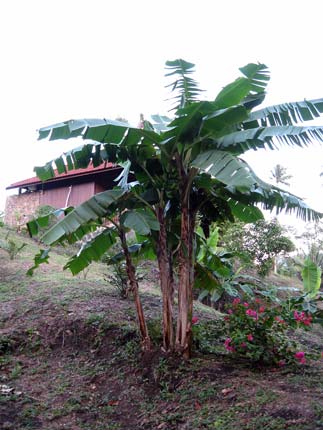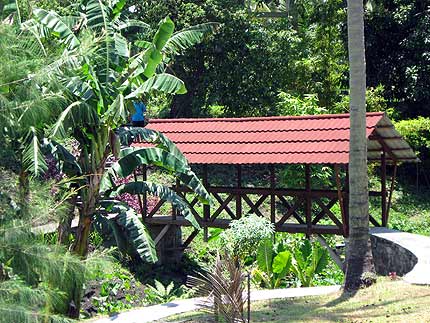 ---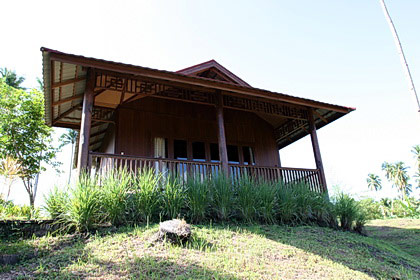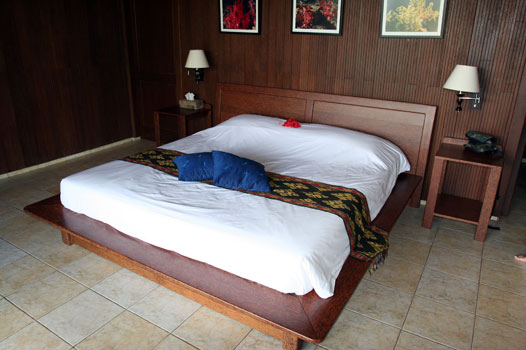 Black Sand has twin and double rooms, and each room is housed in a cottage which is yours exclusively. All rooms are air-conditioned, and come with an outdoor (but sheltered) bathroom, and hot running water. I can't decide which attribute is the most important, because there are so many. The rooms are very spacious, there's plenty of room to walk around without stepping over bags and things. They're also high-ceilinged and airy, so that you never get that smell of damp air after so many days. And the interior design! I know a lot of divers don't give two hoots about interior design, because you're a very functional lot, but it DOES make a difference and good aesthetics will never go unnoticed by Divewithsus. Most of the wood you see is coconut wood, from the walls to the bed frame and furniture. A lot of that wood came from the resort land itself.
Beds

come with white cotton sheets, a duvet (a duvet!!! in a dive resort!!! quite exceeding DWS standards) and firm pillows (one for each person, although on our last night, two more magically appeared)



A walk-in

wardrobe

(a walk-in wardrobe!!! in a dive resort!!! TOTALLY exceeding DWS standards) with plenty of hangers, two 'rods' of hanging space (sorry, don't know how else to describe it), and 6 small corner shelves. The walk-in wardrobe also comes with a bench which we used to place our suitcase on.




Air-conditioning

(split unit) with remote and temperature control



One desk with chair

, which we used

to set up the camera



One ceiling fan




Small

bedside table

on either side of the bed and one box of tissue (in a nice tissue box)




Your own 19-gallon water dispenser for

drinking water

(hot and room temperature), 2 drinking glasses, 2 cups and saucers, sugar (in a container, not in paper sachets), instant coffee, tea and creamer (Tropicana Slim)



Cool

tiled floor




Lighting: two wall lamps, two bedside lamps, one up-light above the door and one on the verandah outside (all yellow light). In the daytime, just draw the curtains open and the natural light will flood the room. The walk-in wardrobe has one ceiling lamp.



Outside, there is a verandah with two chairs, a little glass-top coffee table, an ashtray, and a mosquito coil. There is also a wall lamp so that you can see your way to your door after a night dive.


The view from our room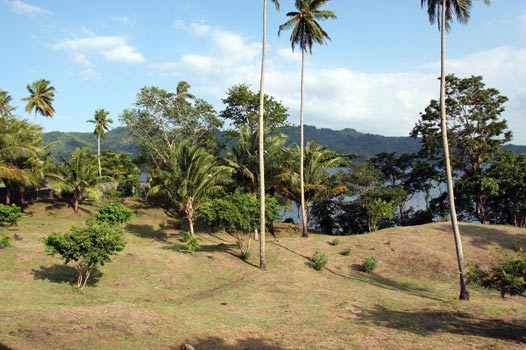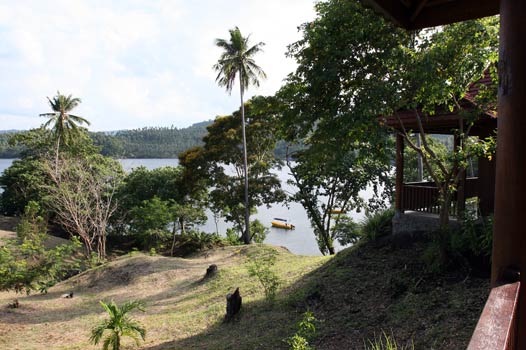 ---
Two

clothes-hooks

on the wall to hang your clothes, plus two railings to hang your bath towel and wet swimsuit




hot water

(with adequate water supply and pressure so your shower will not be reduced to a trickle when everyone else in the resort is showering at the same time)



sink with wall

mirror

and two bars of soap (one was mango scented and the other was frangipani)




Sit-down toilet

with proper flush




Outdoor (but sheltered)

shower

with shelves built into the tiled wall next to the shower to hold your toiletries




One nice, thick bath and hand

towel

per person



Best not to drink the tap water but it's fine for brushing teeth and washing hands




2 rolls of

two-ply toilet paper



A mosquito coil



---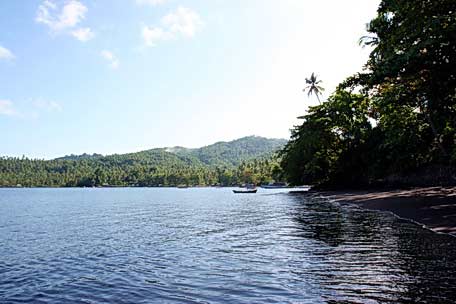 In addition to making your bed and tidying up in the morning, someone will come to your room every evening for turn-down service and to light the mosquito coil in your bathroom and on your verandah. If you're in your room in the afternoons, one of the staff will knock on your door to tell you that afternoon tea is being served. They're responsive too: some water from the water dispenser started dripping onto the floor when the water got over-heated, and once we reported it, this chap came over immediately, knew what to do, came back lugging a new 19-gallon bottle on his shoulder, changed it, and wiped up.