Lembeh Resort
Lembeh Resort is pretty impressive. I would say it's the most photographer-friendly resort we've stayed in so far.
It costs a little more to stay here than some of the other Lembeh Straits resorts, but if you're looking for a pampering experience in a really nice dive resort with excellent service and one that seriously caters to photographers, Lembeh Resort is the place to go. A word of caution though: after a stay at Lembeh Resort, you will leave thoroughly spoilt. When staying in other places - or even just researching other places on the net - you will find yourself a lot more aware of what makes good camera rooms, and you will feel rather inconvenienced if these other resorts don't have large camera rooms, an air blower, crew who handle your camera equipment with great care, a towel just for your camera, and free flow of special lens tissue. (More about the camera room in the Lembeh Resort Dive Centre page.)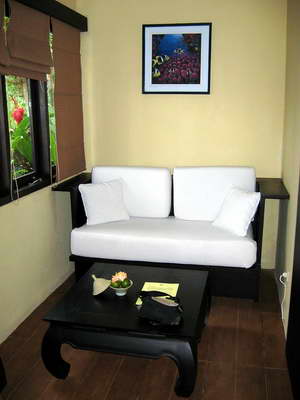 Your own little living room

The verandah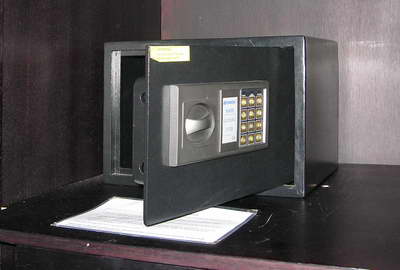 Personal safe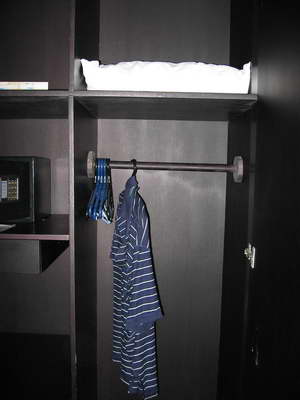 Wardrobe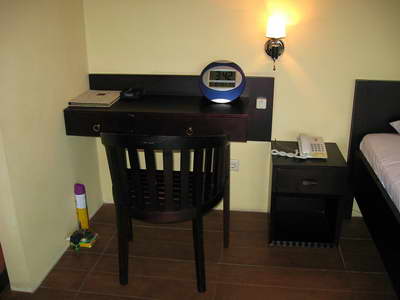 Desk and chair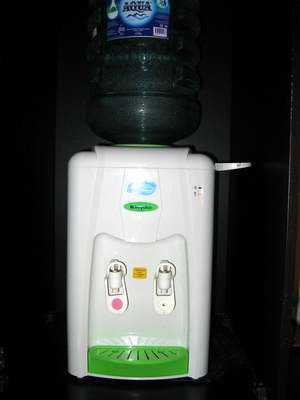 Hot/cold water dispenser!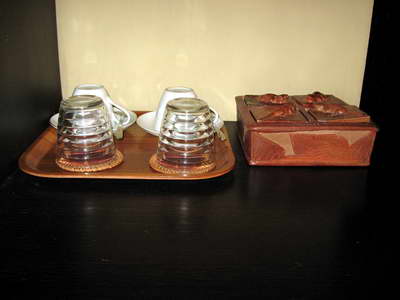 Cups, saucers, glasses, coffee, tea, sugar, creamer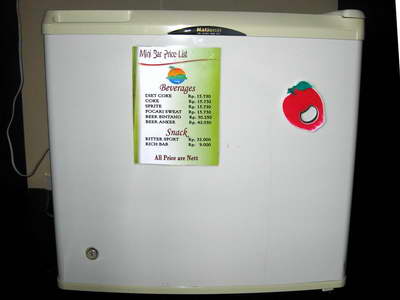 Mini-fridge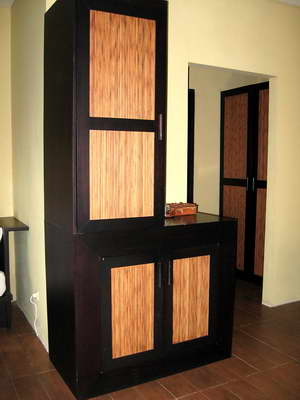 The fridge, water dispenser and cups are neatly housed in a cupboard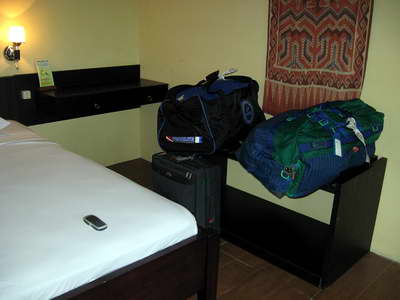 Luggage bench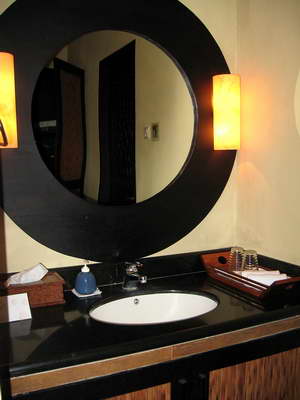 Sink with mirror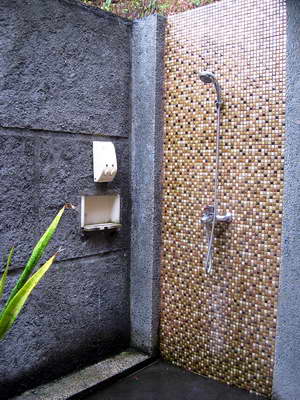 Outdoor shower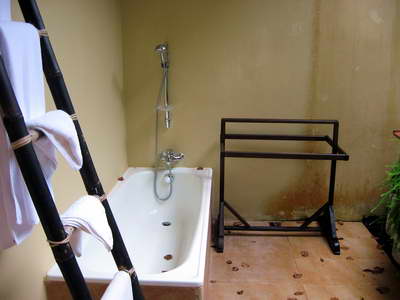 Indoor shower and 2 towel racks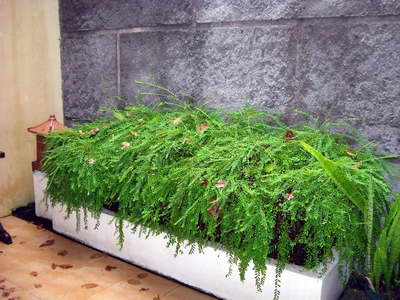 Yes. there is a huge planter box in your bathroom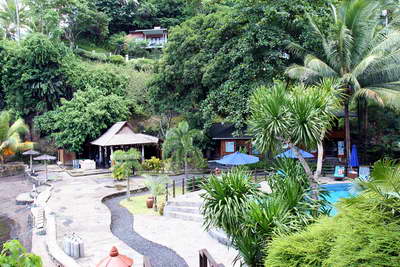 The resort from the top of the hill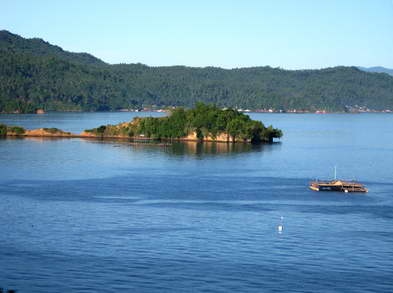 Sea view from the resort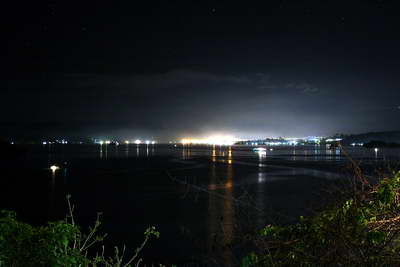 Sea view from the resort at night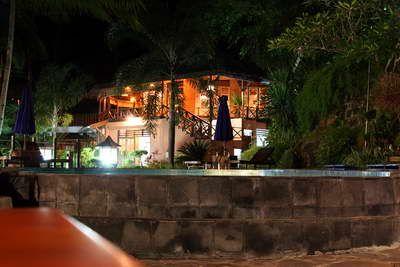 The poolside by night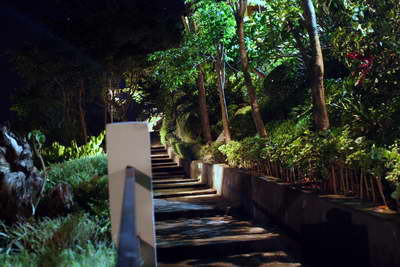 Lush landscaping everywhere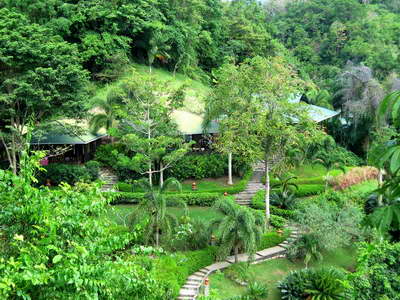 Access to Lembeh Resort is 10 mins by boat from Police Pier, after a 1.5-2 hours' drive from the Manado International Airport. The resort is on Lembeh Island itself. There is no jetty but you don't have to roll up your trousers and step into the water when getting off the boat.
When you arrive, you will be shown to the dining area (about a 5 minute walk up a gentle slope, from the boat). You will be welcomed with fresh juice and a cold towel, and if the Dive Manager isn't out diving and discovering new sites, he'll come by to say hello while you fill up the guest room forms. He'll arrange a time for you to go to the dive centre later so he can brief you on the diving stuff. Then you're shown to your rooms. This resort would never allow you to carry your heavy bags yourself, and you will have the pleasure of leaving behind your heavy bags at the lobby which will be carried to your room separately.
Like a few of the resorts in Lembeh, the resort is built on a hilly piece of land, so be prepared for lots of stairs.
---

Rooms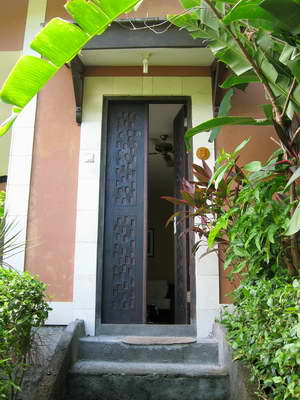 Lembeh Resort has twin and double rooms, and each room is very spacious. All are air-conditioned with attached (semi-outdoor) bathrooms with hot running water. Rooms 1 to 7 on one side of the island are the original set, with wooden walls and a more traditional design (some have air vents at the top of the walls so the air-conditioning may not be as cool as you'd like). The set of rooms on the other side of the island (rooms 8 - 12) are new, with concrete rather than wooden walls, but in Balinese style and tasteful interior.
The newer rooms are set on higher ground, so you get a pretty intense workout on your calves every day, whereas the older rooms are on a less steep incline. I don't mind this workout, although the climb to room #12, the highest room with the most spectacular ocean view, may cause cardiac arrest if you're not used to it. We like room number 9.
Ok, they don't have walk-in wardrobes like Black Sand, but they have floor-to-ceiling glass doors overlooking your balcony, they're well-lit, and are incredibly spacious.
Beds

come with white cotton sheets, a duvet and firm pillows (one for each person, plus one spare in the wardrobe). If you're assigned a double room, you get a four-poster double bed. If you're assigned a twin room and you're a couple, the resort will push the twin beds together and put this foam thing between the two beds and then use a double bedsheet so that you don't slide into the crack in the middle of the night. (I love it when resorts think of details like that). There are side tables on either side of the bed. I was also told that all the rooms got new mattresses at the end of 2009, so that's nice to hear.

Optional mosquito net

(there's a hook on the ceiling for this). With air-conditioning and care that you don't leave the windows and bathroom door open for too long, you won't need the net.



A

wardrobe

with plenty of hangers and shelves.




Air-conditioning

(split unit) with remote and temperature control. However, there is a note saying not to go below 24 degrees Celcius.



Two desks

(one on either side of the bed) with one chair




One ceiling fan




Small

bedside table

on either side of the bed and one box of tissue (in a nice tissue box)




Your own water dispenser for

drinking water

(hot and cold), 2 drinking glasses, 2 cups and saucers, sugar in sachets, instant coffee, tea and creamer. There is also a

mini-fridge

with a jug (to cool down your water from the dispenser if you want it ice cold), Diet Coke, Coke, Sprite, Beer Bintang, Beer Anker, Ritter Sport chocolate and Rich Bar (not sure what that is). Their prices are listed on the front of the fridge.



Wooden bench for your luggage



Cool

tiled floor




Lighting: two yellow-light wall lamps (bedside), one yellow-light at the sink area (which is separate from the bathroom), white-light ceiling lamps in the bed and sink area, one light at the door and one on the verandah outside (yellow light). In the daytime, just draw the curtains open and the natural light will flood the room.



A cosy two-seater sofa and coffee table, placed next to a window (with blinds). The rooms in the older wing have separate living rooms!



Outside, there is a verandah with two chairs, a little coffee table, an ashtray, and a wall lamp.



Two waste-paper baskets - which is something I really appreciate. And this doesn't include the third waste-paper basket in the bathroom.



A mosquito coil, matches, mosquito spray in a large can, and an electric mosquito repellent vaporiser



The view from your room

---
Outdoor

shower

with holdable showerhead, with a little shelf built on the wall next to the shower to hold your toiletries. There's also a liquid soap dispenser with Lembeh Resort's

own shower gel and shampoo, both of which are very nice, did what they were supposed to do (clean), and didn't make sensitive skin break out into a rash.



There is also a second shower (also with holdable showerhead) in the sheltered part of the bathroom. Depending on your room, this is either with a bathtub, or in a shower enclosure. Yes, two showers! Now, THAT'S really something.



One nice, thick white bath and hand

towel

per person



Two

clothes-hooks

on the wall to hang your clothes, and two towel racks (one tall ladder-like one and one standard standing one about waist-high) to hang your bath towel and wet swimsuits




hot water

(with adequate water supply and pressure so your shower will not be reduced to a trickle when everyone else in the resort is showering at the same time)



the sink is in the room rather than the bathroom which is nice as you won't need to leave your air-conditioned comfort to brush your teeth before going to bed :-) There's a wall

mirror, a handsoap dispenser, two face towels, two glasses, and space around the sink for your toiletries




Best not to drink the tap water but it's fine for brushing teeth and washing hands




Sit-down toilet

with proper flush





2 rolls of

two-ply toilet paper



one white cotton

floor mat




one

waste-paper basket
---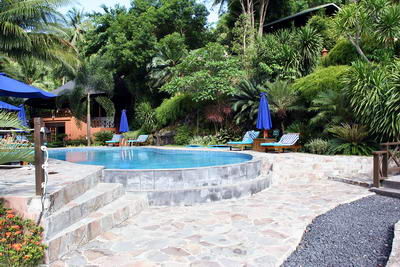 Lembeh Resort has a lot of amenities that even non-divers will enjoy staying here. There's a pool which is deep and large enough to accommodate a few guests and a few open water divers having their pool session. There are plenty of deck chairs for sunbathing, although if there's a big group of sun-loving guests you might not get one (then just recline on the edge of the pool). The deck chairs come with nice big sun umbrellas so you can spend the whole day there with a book without frying.
There's an air-conditioned library with a good selection of novels (English and I think there were a handful of German, French and other European-language ones). There's a computer room with two computers and free internet access. There's a gift shop selling swimsuits, sunblock lotion, mosquito repellent, Lembeh Resort's signature shower gel and shampoo and batteries.
And I haven't even started on the dive centre, camera room, dive shop and dive excursions (covered in the dive centre page).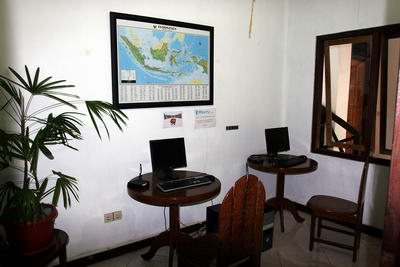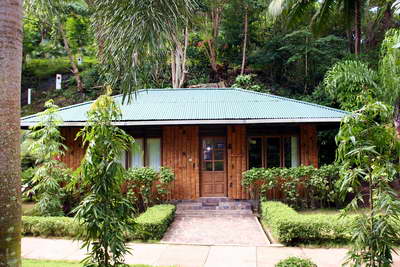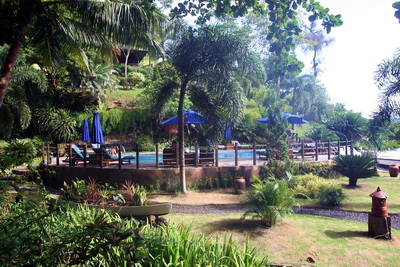 Above from left to right: The computer room with free internet, the library, and the pool
---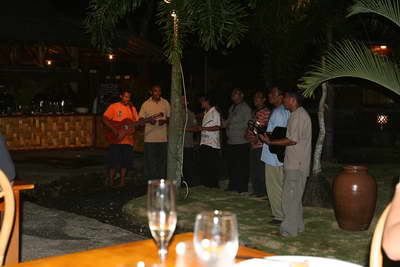 One gets the feeling that the staff morale at Lembeh Resort is pretty high, because it seems to come through in the way they do things. I don't know how to be more specific, because other places too have excellent and genuine service, high standards, sincere smiles, and a five-star hotel way of doing things. But here, the morale is just higher. I heard the waitress at the restaurant happily singing softly to herself, harmonising with the piped-in music as she worked, and we were all treated to songs sung by the security team (left) at a poolside barbeque dinner on a Sunday evening. The nice guy at reception never looks tired even if he's on the night shift, and will gladly unlock the camera room for you after closing time, with a smile on his face. When we locked up for him and returned the key, he looked genuinely surprised and grateful, and he didn't have to be. There was also one resort staff who has never dived, and she asked us if we had a good dive, and after we responded enthusiastically that it was a wonderful dive as usual, instead of just ending there, she went on to ask whether there are big or small fish in Lembeh waters. The thing about this exchange was that she initiated it and was interested to hear our answer. On our last day, when we left our room to check out, we passed the guy who maintains the resort grounds (he's always sweeping the footpath or tending the flowers), and with sweat streaming down his face, he said not the usual hello or goodbye, but "sampai jumpa lagi" which means "till we meet again". They're like one big family.
Service at the restaurant is great too. If after dinner you want some more dessert (it's a set menu), just ask and it will appear. That said, you might not have the same luck if you ask for extra dessert in advance when they take your order. We did this twice (once was for our favourite goreng pisang), and the waitress wrote it down, but we didn't get it, so we're not sure what happened there.
The resort discourages tipping individuals, so your tip will be shared evenly among all staff (they have a box for tips). If you think a particular individual should be singled out for his/her good service, you only need to say so in the feedback form or a letter, but you cannot tip that person individually. This is not an unusual system at all if you come from Singapore, but for others who come from countries where tips are practically compulsory and grumpy waitresses or surly taxi drivers expect it as their legal right regardless of whether the service even warrants a tip, Lembeh Resort's very fair and egalitarian system with super happy staff perhaps proves that tipping isn't the key motivation for good service. Think about it!
---
Tips
Bring LOADS of mosquito repellent.
Put the (lit) mosquito coil in the bathroom if you're going to spend more than 30 seconds in there.
Bring a torch for the evenings (easier to see the stairs on your way back to your room after dinner).
Be prepared for very loud crickets at night, gecko lizards (but let them stay in your room as they eat mosquitos), and garden snakes on the resort grounds.
Be prepared to exercise your quads!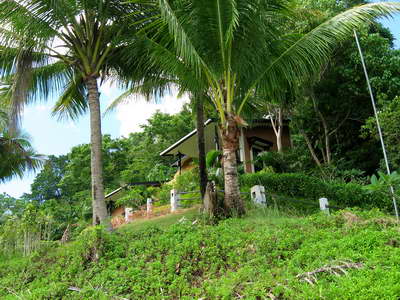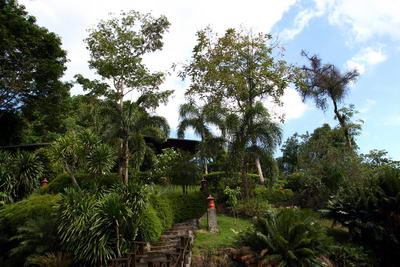 Your room could be way up there...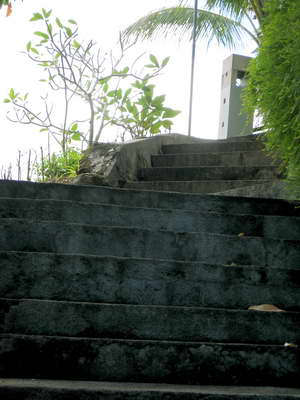 Which means you have to walk up these stairs several times a day!