Nomad Adventure Divers
Important Note: NAD is now under new management as of September 2008. Simon Buxton and Mike Veitch (yes, the photographers) now run the resort. Sandra and Josef have left, so please bear in mind that whatever I have described in these pages may have changed. In the meantime, here's a big thanks to Sandra and Josef for making NAD such a warm, hospitable, laidback, affordable and uncondescending place. All the best to Sandra and Josef, wherever they go!!! In the meantime, do visit NAD's webpage. I like checking out their news page which gives updates of the latest enhancements to the resort.
Nomad Adventure Divers is run with a very good understanding of divers and their needs. If they wanted to shamelessly copy the slogan of a well-known petroleum brand, Nomad's slogan could well be "Because we're divers too".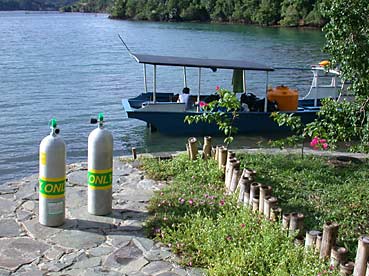 The resort design is a bit like an American motel, in that the rooms are all in one row (although there are four separate standalone bungalows with slightly higher prices). The ambiance however, is very resort-like and cosy, and not at all like a motel.

I must mention here that the landscaping is very pretty - everything there was lovingly planted by Julia (who started the resort with her husband Bernard, though they no longer own the resort), and she made flowers bloom. Every morning, rows of colourful morning glories open up along the pathways, and if you walk around, white, purple and white-and-purple orchids peep out at you from the greenery.
Photographers would also be very happy with the camera room because there are multiple points (2-pin, round) to charge your strobes, cameras, handphones, and laptops, a voltage regulator and a multi-card reader to boot. There is also a computer with free internet access for all guests. It's not broadband though, so save your photo uploading and unimportant emails for when you get home. The camera room has recently been refurbished to become a Computer Room - check out the latest pictures at NAD's webpage.
In the common area, there is a TV, a DVD player with a pile of DVDs and an MP3 player for music. There are plenty of armchairs and sofas with piles of diving and ladies' magazines (I'm talking Cosmo and Glamour - good stuff!!!) and a mini-library of fiction and coffee-table books and references on Sulawesi marine life (great for identifying the critter you spotted on a dive).
There are rattan deck chairs for sunbathing.
You can leave your valuables like passports and cash in their safe.
---
Nomad Adventure Divers offers two types of accommodation - standard and deluxe. The first time we went, we stayed in the deluxe rooms, and from what I gathered, standard rooms are pretty much the same except they don't have air-conditioning.
Beds

are double beds, one thin blanket and firm pillows (one for each person)



An open

cabinet

with three shelves



An open

wardrobe

with hangers




Air-conditioning

(split unit)



One wall fan



One sturdy wooden wall shelf - good for placing your small items like pouches



One solid

wooden shelf

acting as the headboard of the bed, where I found it convenient to put my moisturiser, ear solution and other bedtime must-haves




Small

bedside table

on either side of the bed



Cool

tiled floor




Clothes rack outside your door to hang wet items (3 rods)



Nomad also offers four charming wooden bungalows which we stayed in for our second visit there in July 2007. The bungalow is tucked in a private corner and accessible by a little staircase. Its higher location means a great view of the sea. It's bigger than the deluxe rooms, and has a dresser with mirror, a large wardrobe, a nice big bed with a mosquito net, a vanity counter and mirror in the bathroom with plenty of space for toiletries, a private verandah with two chairs and a table to enjoy the sunset, and an open-air shower with its own water tank. I can guarantee that all these little extras will make you feel quite special!
---
How to Operate the Gas Heated Shower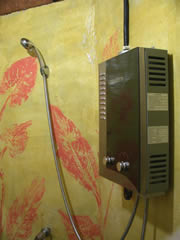 1. Switch on the switch underneath the metal box.
2. Turn on the water. If it's your first time, take down the shower and face the nozzle into the sink.
3. Wait for a tack-tack-tack sound (which should come on immediately). If it doesn't come, switch off the water, wait a few seconds, and try again. You might need to do this many times.
4. Look through the metal grills of the box and look for the flame. There is usually a whoosh sound just before the flame appears.
5. Adjust the water temperature with the two dials. But note that if the left dial (which adjusts the flame size) is too high, the water may be too hot. But if it's too low, the flame might go out completely and you'll have to start all over again. You will have to experiment to find the perfect balance.
6. Tip: After a dive, when the crew is washing your equipment and other guests are all having a hot shower, the water pressure might be very weak. If you're not the first to reach your room and not the fastest showerer on the island, it's best to wait 10 minutes while the rest finish. Then you can have the water all to yourself.
7. After your shower, don't forget to switch off the bottom switch and turn on the circulation fan to clear any gas that might be floating in the air.
---
The staff here are well-trained, motivated and friendly.
On our first day while we milled around the common areas, various staff made it a point to come up to us, shake our hands, and introduce themselves to us.
In the morning, they'll greet you with a cheery "Good morning!"
When getting on and off the dive boat, they're there to hold your hand to steady you.
Before meals, they time the cooking of your food so that when it's chow time, the food is piping hot and straight from the cooking pot, rather than heated up.
During meals, they magically appear to remove your plate from the table when you're done or when you're having dessert.
At the end of the day, before they knock off, they say goodbye.
Hospitality At Its Best
When we went in March 2007, our return flight was only at 7pm, and the resort let us keep our room till 4.30pm (departure time), and we had lunch along with everyone else.
This meant a lot to me, because one thing I don't like is the Invisible Guest Syndrome prevalent in larger hotels - where you MUST check out at noon, skulk around like overdressed refugees in the lobby, gaze wistfully at the guests eating their lunch, while everyone ignores you.
Not so in Nomad Adventure Divers. Here, you are always a guest with a name.