---
My Equipment
For photos taken in Tioman, Aur and Maldives (2005)
Camera: Canon D60 (graciously loaned from my brother-in-law, a great photographer. Too bad most of his lenses are too big for underwater!)
Housing: Ewamarine UAXP (see picture on the right) - easy to carry around, and great for snorkelling but bouyancy is a problem, as it changes with depth. Overall a very well-designed piece of equipment. Hit 25m without any problems, although it's only rated to 20m. Email me if you want to use the Ewamarine effectively, because you must Do It Right for it to work properly.
Lens: Most of the time using the Canon 50mm F1.8 and sometimes the Canon 24mm F1.4 USM
Flash / Strobe: Sigma external flash, no strobe
From 2006
Camera: Canon 20D, bought from Alan Photo during Canon's Christmas Sale (came with a free 1GB CF card, free book on Canon lenses). Brother in law helped to buy it because he had kangtow for discount.
Housing: Ikelite housing and ports from Scubacam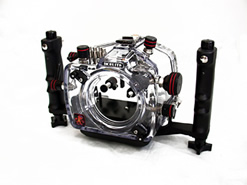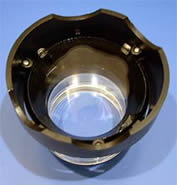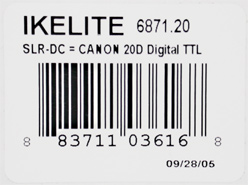 Lens: Canon 50mm F1.8, Canon 24mm F1.4L USM, Canon 16-35mm F2.8L USM, Canon 100mm Macro F2.8 USM, Canon EF-S 60mm F2.8
Flash / Strobe: Ikelite Sub-strobe DS 125 + Ultralight arms from Scubacam x 2 (as of June 06)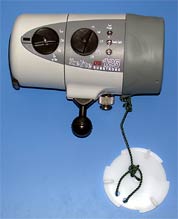 Ikelite Sub-strobe DS 125 (remember to tie the diffuser to the strobe!)
All of the above is used by DWS' official photographer. I on the other hand, use the Canon A570 IS, with the corresponding housing and all its multi-coloured bits. Quite kuniang. But it's easy to use, and easy to set up (just put in the yellow o-ring).
---