My advice on getting started with diving is not endorsed by PADI or any other qualified diving experts. It's just an anecdotal approach, based on personal experience, which I hope you find useful.
After many snorkelling trips to the Maldives and Mauritius, my husband decided it was time to move on to the next stage. Notice I said "my husband". Diving wasn't a joint decision. You see, my first snorkelling experience was when I was about 19 when I hadn't yet learnt how to swim. I was staying in Saudi Arabia with my dad, and he said "you don't stay in Saudi Arabia without snorkelling in the Red Sea". So I gamely borrowed my mum's swimsuit (a blue one-piece), snorkel mask and booties and off we went to the Red Sea. Not being able to swim wasn't a concern because the salt content of the Red Sea was so high you float naturally. But I hadn't a clue how to breathe through a snorkel. After a day of clumsy snorkelling and inhaling salt water, I threw up a toilet bowl full of Red Sea water and secretly decided to myself that snorkelling was ... umm... difficult.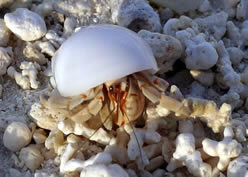 Then I learnt to swim (I should mention here that you must know how to swim because that's a prerequisite of the open water course). Immediately after that I went to Club Med Faru in Maldives with my husband. The resort had instructors (GOs) who taught me basic snorkelling. Even then, I used a life jacket because I was totally useless in the water. Water confidence is something I only developed over several snorkelling trips. Without a life jacket, my husband had to hold on to me while I adjusted or cleared my mask.
The impetus to dive or how why I decided to dive was simple. My husband wanted to pursue his interest in underwater photography, and with our trips to Maldives becoming a regular affair, it would be a pity NOT to dive. With EL nino and the coral bleaching from 1998 onwards, the coral growth and marine life was much less top side so there was a need to go deeper to see more. My husband felt I was confident enough in the water and determined me Fit for Diving.
So I approached diving very tentatively. I was so sure that I wouldn't be able to handle it and was actually quite terrified.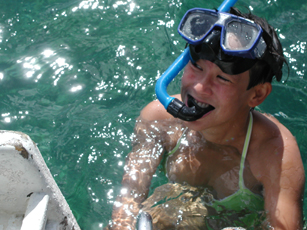 Snorkelling - a great way to pick up water confidence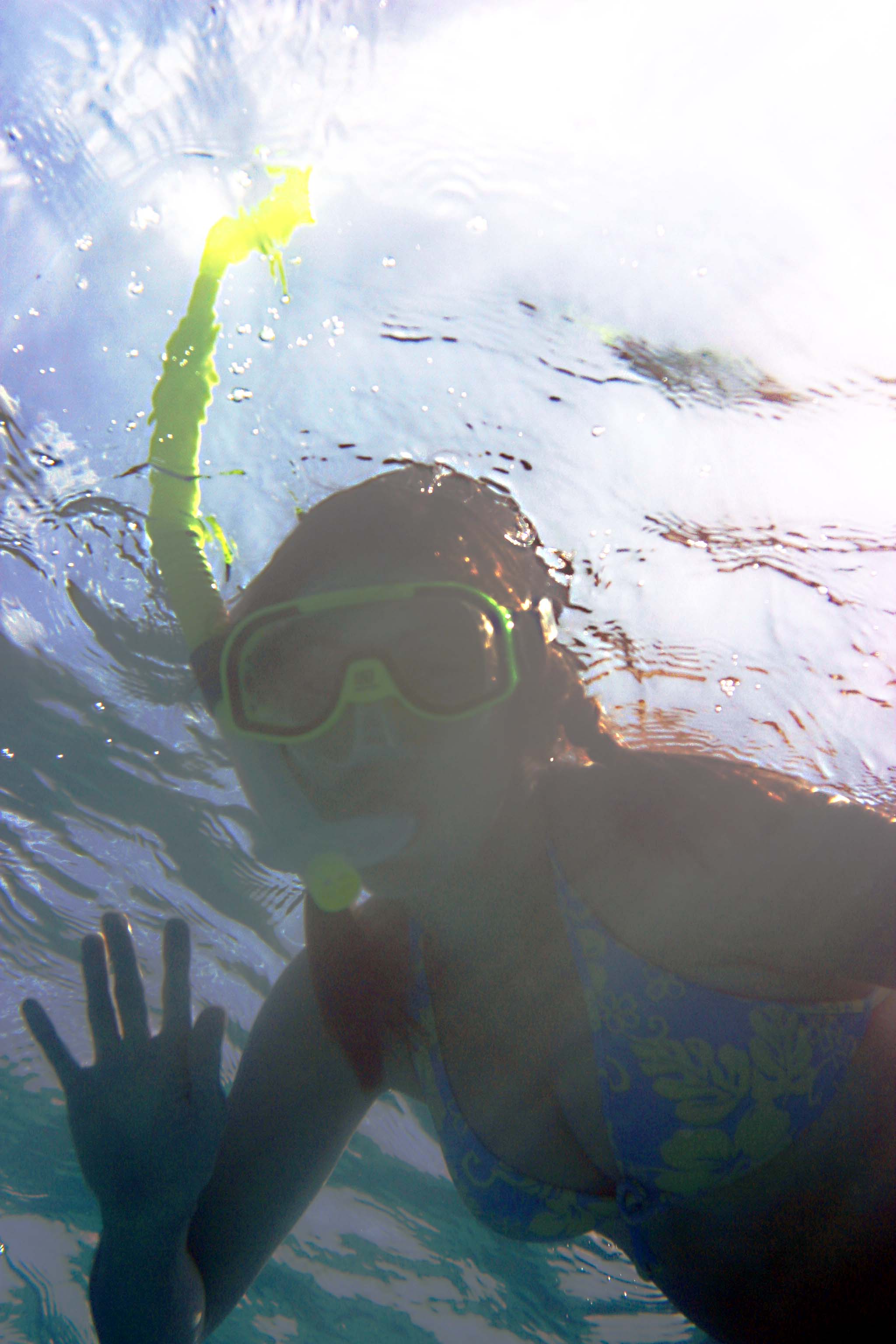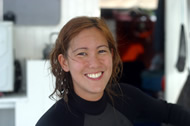 Me at Aur doing my Advanced Open Water - absolutely happy
---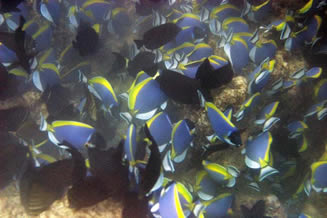 Anyway, we asked some reliable friends who had taken up diving to make some recommendations on dive centres in Singapore. We short-listed two, and the email response from Living Seas Singapore came across as the most sincere. Plus, their website showed a lot of photos of Gideon diving, which showed that this dive centre had real divers and it wasn't just a part-time hobby set up by businessmen trying to earn extra pocket money. It wasn't one of those commonly found dive centres where the boss had stopped instructing or worse still, never instructed in the first place. So we signed up with them. PLUS, the teacher-student ratio was 1:4. (Some dive centres have 1 instructor to 10 students.)
Actually, we originally didn't even want to do the course in Singapore. You see, the Open Water course is divided into two parts: theory (2 sessions) and practical (2 pool dives and 4 open water dives, ie. open water = in the sea). We initially approached the Singapore dive centres to do only the theory part of the course. The plan was to then go to a dive operator in the region and do the practical part there.
But our elaborate plans were turned upside down when we did our theory course at Living Seas. The instructor (Raymond Goh) was such a sweetie that we decided to do the complete course with him. Living Seas were just really nice people. We were all on the same wavelength. It was the little things that counted, eg:
patience in going through (again and again) the dive tables even though it was past 10pm



having similar views on smoking



taking the course seriously and not adopting that wayang bravado attitude that some instructors, unfortunately, have (to the point that they become too lenient on certain things)



being sensitive to girl worries that may appear frivolous but are actually very important to us (eg. girls tend to worry about being scolded or facing an impatient or fierce instructor if you can't clear your mask, or if you freak out when water goes up your nose, or if you "need a moment" to gather courage before you descend). It's important to find an instructor who has an inate understanding of WHY you feel scared and who won't ridicule you or make you feel small. Dive instructors please take note: generally speaking, girls would rather die than be ridiculed.



not having the proud, arrogant, 'too cool to be nice', hou lian attitude that certain circles of divers have (usually the have-nots)



The pool dives were held at a local pool (Outram Secondary School, side note: the car park is just next to the pool), and the open water part was held at Tioman. I found out that if you pay attention, and if you have a meticulous instructor who gives clear instructions, it's actually possible to get through the course without drowning - or worse still, being laughed at!
How to Select a Dive Centre
Email them. See how fast they answer, and whether you understand their answer.
Go through their website and look out for things like when it was last updated, the attitude or personality conveyed in their writeups, and the overall friendliness of the website. I don't like to deal with people who are not internet-friendly.
Go to the actual dive centre and see if you feel comfortable in it. Talk to the staff and make sure you understand each other. eg. if you don't speak Mandarin, but they're more comfortable conversing in Mandarin, you may want to think twice before you try to learn life-saving skills from them.
Ask the staff about the Open Water course. Be attentive to HOW they answer your questions. Are they patient? Do they display an understanding of your concerns? Do they sound sincere in finding out and addressing your concerns?
Make sure they are not too pushy, a lot of them are out to make a buck.
What is the instructor to student ratio?
Price should be a concern but don't go for too cheap a package which would mean something else has been compromised.
Try to get a recommendation. Because some of the instructors may not be good or experienced enough.
If you are like me, very busy with work, it's important to find a Dive Centre with a flexible schedule.
---
I strongly recommend that water confidence is a must before you take up diving. What is water confidence? Water confidence is:
- feeling comfortable under water
- calmly reacting to a little bit of water up your nose as a minor inconvenience
- being able to breathe normally and maintaining a steady rhythm even if you're in a tight spot
- being comfortable in a current and letting waves buffet you around
- getting used to blue water, deep depths and marine life
- not panicking when big fish or sharks come near you!
- being able to tread water and adjust/clear your mask at the same time
- being calm and confident in the open water will make it easier for you to handle the drills and other situations. And you won't need to hang on tightly to your instructor!
This means that if I had taken up diving immediately after learning how to swim, I may not have enjoyed it. You must have heard stories of many girls who quit after the pool dive or the first open water dive, frightened of being underwater or in the open ocean. So don't rush into it until you feel you are ready.
I think getting plenty of snorkelling practice before taking up diving was essential for me. If you are the type who holds your breath and does free dives in the deep section of the pool, or if you naturally fool around in the water, or have no problems opening your eyes underwater even if you wear contact lenses, then you probably don't need that snorkelling practice and may take to diving like a duck to water. But if you're not, go get a snorkelling mask and snorkel and start practising. Snorkelling will help you gain some water confidence.
---