Getting to Hantu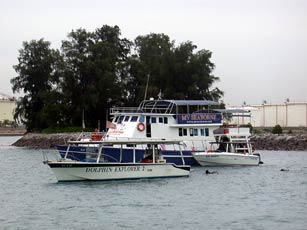 There are many different operators who organise half-day trips to Hantu. The latest we tried is Dolphin Scuba. For a reasonable price, you can charter a boat for half a day, and they will provide tanks, weights and cold mineral water. Their boat sometimes departs from Keppel Marina and sometimes from the Republic of Singapore Yacht Club (RSYC). Another option is through SeaBorne Scuba, based in RSYC.
The Keppel Marina is located at the end of Bukit Chermin Road, next to Keppel Club. Parking is free at the Marina itself. (Don't park at the Keppel Club multistorey carpark for visitors unless you want to walk a few hundred metres carrying your heavy dive equipment.)
The RSYC is in the West of Singapore, south of the National University of Singapore, near West Coast park. While you can't park at the RSYC unless you're a member, there is a carpark right next door which has cashcard parking (S$1 per hour, max S$8 a day). There is also a free carpark (Carpark 2) across the road at the West Coast Park along West Coast Highway. If you're not driving alone, drop off your buddy with all the dive gear at the entrance of RSYC, then go and park in the free carpark and walk over.
The walk to the pier from the RSYC entrance is about 7-10mins. If you don't have wheels, ask security to call for a buggy to bring you there (It's free.) Chivalry Meter: not bad
The boat ride to Hantu is about 20 mins.
---
Dive Boat
Dolphin Scuba's dive boat is fast, functional, and offers sufficient space for 6-10 divers without the Cramped Tioman Effect. The storage space for tanks is well-located, and the deck is spacious for 2 divers to do a giant stride without banging into each other. The boat is also small enough to do a backroll entry if you're so inclined. Dolphin Scuba has a fleet of about 3 boats, and at least one of them has a toilet. But you won't necessarily know which boat you're going to get until you turn up at the berth. So it's best to just mentally prepare yourself for a boat without a toilet. Those without toilets don't have discreet places to change into dry clothes after your dive. But this is equatorial Singapore, so just throw on your clothes over your swimsuit, and don't turn on the a/c in the car on your way home.
Chivalry Meter: acceptable
Until recently, divers used to hire a traditional bumboat and bring their own tanks. However, apparently the bumboats have been stopped, which I think is a good thing, because lazy people like me are not comfortable with the very existence of such roughing-it DIY methods.
A traditional bumboat with the oil refinery (Pulau Bukom?) in the background . I don't think you can get this kind of photo anywhere in the world except in Singapore.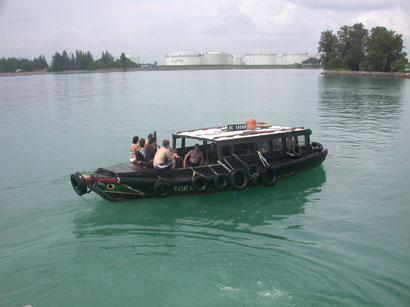 ---