Honestly, all the sites are truly wonderful. Only if someone put a gun to my head, would I recommend those in bold yellow (see list below).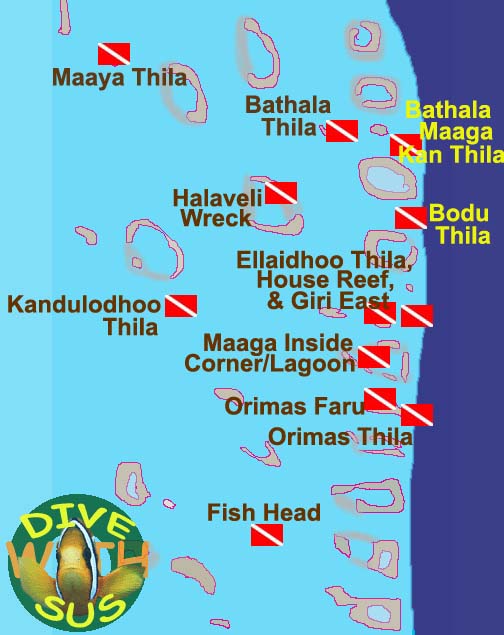 July 2005 (Ari Atoll)
Dive 1 - Maaga Lagoon (checkout dive)

Dive 2 - Ellaidhoo House Reef (night dive)
Excellent wall dive

Dive 3 - Bodu Thila

Dive 4 - Ellaidhoo Giri East
Includes a swim-thru'

Dive 5 - Bathala Thila

Dive 6 - Orimas Faru

Dive 7 - Medhu Thila

Dive 8 - Kuda Thila

Dive 9 - Maaya Thila
Dive 10 - Ellaidhoo Thila

Dive 11 - Halaveli Wreck

Dive 12 - Ellaidhoo House Reef (night dive)
Dive 13 - Fish Head

Dive 14 - Maaga Inside Corner
- includes a swim-thru'

Dive 15 - Bathala Maaga Kan Thila (Bathala MKT for short)
Dive 16 - Orimas Thila

Dive 17 - Kandulodhoo Thila
April 2008 (Liveaboard)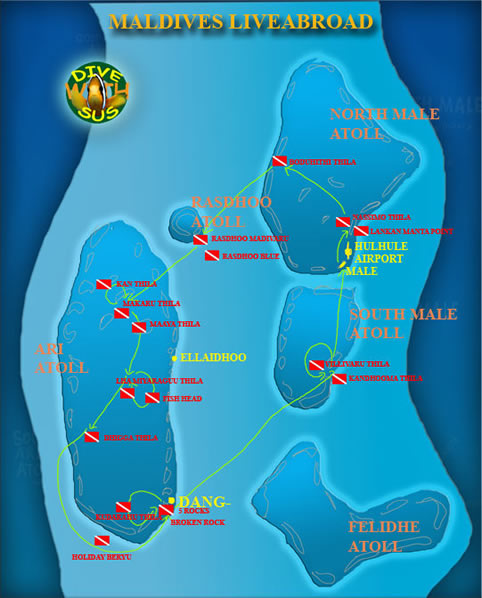 Dive 1 - Lankan Manta Point (North Male Atoll)
Dive 2 - Nassimo Thila (North Male Atoll)
Dive 3 - Boduhithi Thila (North Male Atoll)
Dive 4 - Rasdhoo Madivaru (Rasdhoo Atoll)
Dive 5 - Rasdhoo Blue (Rasdhoo Atoll) (hammerhead dive)
Dive 6 - Makaru Thila (North Ari Atoll)
---
Thilas, Farus and Giris - What's the Difference?

Faru = a circular reef, the top of which reaches the surface
Thila = similar to a Faru but the reef top is deeper
Giri = in between a Faru and Thila
Faro = reef inside the atoll lagoon or on the atoll perimeter (as opposed to a Faru)
Falhu = shallow reef facing the inside of the atoll
Kandu = channel (so Kandu Dive = Channel Dive - strong current from the blue water into the atoll). Around Ellaidhoo (Ari Atoll), the channel is wide so the current is not so powerful.

However, different atolls may have different depths to define these things.
---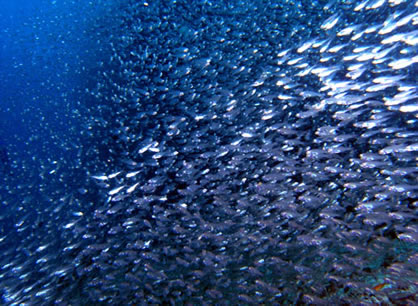 A lot of dive sites have undercuts, overhangs and small caverns which you can peep into (like going to the zoo).
Drift Dives - A lot of dives in the Maldives are drift dives. According to Baani Explorer, currents can be slow, medium, strong, or Oh My God. We went up to medium-strong, and it was manageable. No vibrating masks or regulator. The divers with us with 1000-over dives were blase about it because they were in search of Oh My God currents, but those with less than 70 dives managed too. So my Super Worrier Sisters can rest easy.
Dive Guides - The role of the dive guide seems to vary in the Maldives. At Ellaidhoo Resort, the guides actively guided, ie. just before jumping in they'd inform us if the route would differ from the dive briefing's, the direction of the current, and whether the the reef should be on the left or right shoulder. During the dive, they pointed things out to us, checked on us and signalled to us. However, on the liveaboard, and in another resort which a friend went to, the guides played a more passive guiding role. One would lead the group to the reef, and one would follow behind the last diver, but there was no pointing out of things, or checking, or signalling. Although dive briefings were standard, and in fact quite meticulous, all the above things that the Ellaidhoo guides did weren't done. Once a dive guide ascended on his own half an hour before the guests. So be prepared for independent diving. Hiring a personal dive guide might give you all the extra services though.
Strict regulations - Some places are so strict that if you touch marine life (like whalesharks) which you have already been clearly told NOT to, you may be banned for one dive, like getting a red card. Respect these regulations, because they make a dive destination a good dive destination, and will help to make it stay that way. Just look at the turtles in Malaysia - they're so wary of divers that they've probably been manhandled before. In the Maldives, they don't have that bad experience, which means you can hover inches away from a turtle and they won't mind your presence at all.
Dive sites that match your level of experience - Some resorts allow guests to sign up for beginner, intermediate or advanced dives, usually by just having different notice boards for them to put their names on. Liveaboards won't have this option though, because there are a small number of guests.
Maldives Dolphins - Maldives dolphins are quite shy - dolphins and fishermen have differences because they both fight over tuna. So the dolphins don't come close to your boat to play with the waves. You might see them though (from the boat), or even hear them underwater.
Glass Fish - in July, you will see plenty of them because they're breeding. In high season, you may not see so much because the big fish have eaten them up. It's all part of the grand cycle of things and probably related to plankton blooming.
---
Next (Diving in Maldives - What You Will See)