About Maldives
Maldives is near southern India, and comprises more than a thousand islands peppered across a section of the Indian Ocean. The islands are divided into atolls, with its capital Male, located in the South Male atoll.
Maldives is my favourite holiday destination because these islands and their surrounding reefs means that with a Maldives map in front of me, I can close my eyes and put my finger anywhere, and I know that if I go there, I am pretty much guaranteed of great snorkelling, great beaches, and now that I'm a diver, great dive sites.
My husband and I went to the Maldives three times before we started diving (we snorkelled alot). Our first trip was before El Nino, and the reefs and marine life were fantastic. However, after El Nino, our subsequent two visits showed us a lot of bleached coral. Nevertheless, we could also see from the surface of the water where we snorkelled, that the coral in the deeper areas were not affected. That's one of the reasons that made us decide to take up diving - to see Deeper Maldives.
---
Guide books will tell you that the best time for diving is between January and April. This is a very hot and dry season, with calm waters, and perfect weather for an instant suntan. It also means less breeze. If you're choosing a liveaboard, make sure it's got good air-conditioning and adequate shaded areas, preferably in the front of the boat. This is because in Male, the air is very still, even on the water, and you may find it TOO hot. (See my other tips on choosing a liveaboard.)
But this doesn't mean you can't dive the rest of the year. We went once in July, which is low season. And we had the time of our lives. Visibility was ok (it's better during the high season, but it's good enough).

We saw a parade of mantas. We saw sharks that came within metres of us. If we had gone in high season, these wonderful creatures may not have come near us because of the crowds.
The only thing about low season is that it rains a lot more, and you MUST stay in a room which has a hot shower. What low season also means:
you won't get a sun tan

the boat crew will suffer in the wind and rain while you're warmly cocooned under water

you may suffer from the rocky boat trips to and from the resort to the dive sites - if you're prone to seasickness, this will affect your holiday

the wind can be quite strong - so be prepared for rain that falls horizontally

some dives may be cancelled because of bad weather

you get more personalised attention from the divemasters

you don't have to contend with jam-packed dive sites, esp the popular ones

you get the boat to yourself

you get the beach to yourself

you get to eat almost an entire cake at the dessert buffet and nobody bats an eyelid

you don't have to queue to get your food
you have to carry a brolly around the resort with you

your afternoon nap on the deck chair on the beach may be interrupted by rain

you don't sweat
After taking the "Are You A High or Low Season Diver Personality Test" (we dived one in high season and once in low season), we are declared avid Low Season Divers (LSDs).
---
There are loads of resorts to choose from. If you're flying via SQ to Maldives from Singapore, here are a few tips on choosing your resort:

Your flight will arrive at Male, the capital, late at night. If you want to go straight to your resort immediately via speedboat, you should choose a resort in the North or South Male Atoll.

If you're ok with staying one night at Male and then taking either a speedboat or sea plane the next morning to a resort further away, then you can choose to stay in another Atoll. This option gives you more choice, but it's also a bit pricier because of the additional transfer cost. For example, it costs about US$200 per person for the seaplane (two-way).

For more information about the seaplanes, click here.

What are the Male hotels like? - I've only tried Hulhule Airport Hotel and Nasandhura Palace Hotel and both were good! See my reviews here - Hulhule and Nasandhura Palace Hotel.
If you're watching your budget, you don't HAVE to stay at Hulhule Hotel, just because it's right next door to the airport. Hulhule is a little pricey, and you can get a very good night's rest somewhere else at more affordable prices (and this is coming from a high-maintenance girl). The airtaxi flight times are fixed in the late morning, so it doesn't make much difference if you're 5 minutes or 15 minutes away from the airport.

Resources for Maldives are a-plenty. Here are just a few:

www.maldivesresorts.com
www.visitmaldives.com.mv
www.crowntoursmaldives.com

What are the resorts like?
From my perspective, you will be comfortable at virtually any of the resorts in Maldives. Tourism is their bread and butter so they know how to make visitors happy. I've only stayed at the 3-4 star resorts - they're all excellent. And most of them have their own dive centre.
I've only stayed at 4 resorts and 1 liveaboard:

Club Med Kani (North Male)
Club Med Faru (closed)
Meeru Resort (North Male)
Ellaidhoo Tourist Resort (Ari Atoll)
Baani Explorer liveaboard (various atolls)
The first three were snorkelling holidays (I didn't know diving then), and the last two were diving holidays. Hence this website only features details on the Ellaidhoo Resort and the Baani Explorer for now. I do plan to go to more in the coming years, so do look out for more pages on the Maldives.
---
With a four-to-go package from Singapore Airlines, the cost for a one-week holiday at Ellaidhoo Resort in July 2005 was S$1,959 per person.

This included:
- return economy flight via SQ
- return transfer via seaplane
- one night accommodation at Male
- 6 nights accommodation at Ellaidhoo Resort
- full board
- all taxes
- all ground transport

This excluded the diving cost, which came up to US$1,700 per couple, including:
- NITROX II certification course (two dives and theory instruction)
- 15 dives (including 2 night dives)
- all boat trips (US$13 each)
- weight belt, weights and tanks
- loads of free advice

This cost excluded equipment since we brought our own.
For a 7-night liveaboard on the Baani Explorer during 2008's high season in April, we paid US$2,688 for 2 people, including:
- 17 dives (3 dives a day + 1 night dive)
- weights and tanks
- full-board including snacks after every dive, free flow of water, coffee and tea
- 1 dinner on an island
The cost excluded Nitrox (US$6 per tank), equipment, tips, airfare and additional accommodation in Male which we needed because our flight arrived late at night on a Saturday.

---
Currency, Language and Culture
The official Maldivian currency is the Rufiyah. You will not need to use this currency unless you go to Male for shopping.

Most resorts accept US$, Euros or both. It is acceptable for tips to be in either currency.
Note: The airport money-changer only changes foreign currencies to Rufiyah.
You'll be fine with English. Resort staff and shop staff in Male can speak English, and because of the strong tourist industry, most of them have picked up phrases in foreign languages. We had a waiter who conversed with us in Singlish, and then spouted Italian with the guests next to us.
While it's acceptable to walk around your resort in your bikini (some ladies have been spotted sunbathing in thongs), you must dress decently when you go into Male.

Dress Decently = sleeves + knee-length or longer
---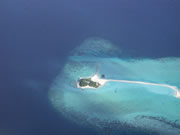 One of Maldives' many islands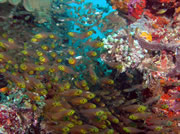 Amazing Fish Life
About Low Season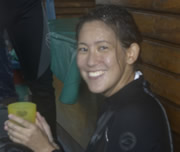 This is a picture of a happy Low Season Diver. It was freezing cold and windy on the surface. I was shivering and I badly needed to pee. I was sitting on the floor getting sprayed by waves and rain because it was extremely choppy. A fellow diver had to merlion into a bucket. A few times the waves were so high they entered my cup of tea. But nothing could wipe the smile off my face because I just had another excellent dive.
There was one time, at band camp... no sorry, at Ellaidhoo Resort, when we went on one of our usual dives one overcast afternoon. The sky was grey everywhere you looked, and the clouds were going to open up sooner or later. But when we jumped in, it hadn't started raining yet.

When we resurfaced almost 60 mins later, it wasn't raining either. So when I got onto the boat (in an irritatingly happy conversational mood), I brightly asked the crew, "No rain?"

He gave me an incredulous look because while we were underwater enjoying ourselves playing with all the fishies, the crew had had to bear with a violent storm on board a rocking boat with no shelter.

What to Pack for Low Season
OK. I brought two pairs of underwear a day, one t-shirt a day, and a pair of shorts for every two days. This is my usual packing list for high season.

I found that because it wasn't hot, I didn't sweat. My t-shirt still had the fresh-out-of-laundry scent after two days of consecutive wearing. For the same reason, I wore the same pair of shorts the entire week. The only reason why I changed into a fresh pair on the last day was only so that my new pink OP shorts wouldn't feel left out. That's how good low season is. You can pack minimally and save on baggage weight.

What you must bring though, is your own toiletries. Low season means the resort may not provide free toiletries in your room. So at the very minimum, you MUST bring:
shampoo
conditioner
facial wash
shower gel / soap
cotton buds
Note: you won't have to bring your own umbrella because the resort provides one in each room.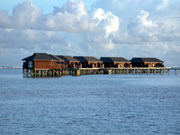 If you have money to spare, stay in a water bungalow - quite a few resorts in Maldives offer this option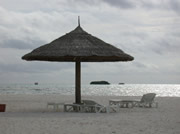 The beach at Club Med Kani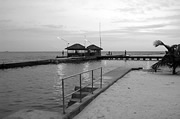 Ellaidhoo Resort's jetty

Above and below: Male Town