Baani Explorer
Public Service Announcement
The Baani Explorer is one of a fleet of liveaboard diveboats under maldives-liveaboards.com (the others include Baani Adventurer, Black Pearl, and Stingray).
We went on the Explorer in March-April 2008 and had a smooth trip. These webpages are based on our experience then. However, you should also know that in May 2008, a Russian diver staying on board the Baani Adventurer, died. His tank was found to contain 10 times the safe level of carbon monoxide. Eight fellow divers had to be treated and the two dive guides on board were hospitalised. Key in "Baani Adventurer death" in Google, and you can read the reports. Here's one of them.
I'll still leave my review here, because the intention of this site is simply to tell the facts and my impressions, and hopefully give a few tips to my tiny group of supporters about life on a Maldives liveaboard. OK?
Tips
| | |
| --- | --- |
| | Bring an inflatable pillow. Great with a good book. |
| | If you need air-conditioning for a good night's sleep, and if you're not sure how good the a/c is in a liveaboard, pay for the suites, or whatever they call the rooms on the upper decks. These are cooler than the cabins which are below deck. |
| | If the cabins are really too hot, grab your pillows and a sunbathing mattress and sleep on the rooftop. Bring a shawl, windbreaker or sweater because it will get chilly around 4am. |
| | If you really abhor cigarette smoke, and if you have time for additional pre-trip work, try to get like-minded individuals to join you on your liveaboard. Your group should form at least half the maximum occupancy of the liveaboard to form a critical mass of non-smokers. |
| | Check out forums like scubaboard for good honest feedback. |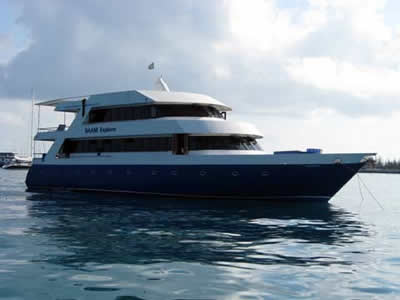 If you're booking through the internet, you'll probably do it directly with maldives-liveaboards.com, whose office is based in Austria (the former Bavaria as some Germans really want us to note). And it doesn't take a genius to figure out that Austria is very far from Maldives, and hence, the person you deal with in Austria has not been to ALL the things his/her company markets. (In other words, they're not divewithsus.com!)
The day-to-day running of the boat is therefore left to the team based in Maldives. Chaali the main man gives dive briefings, is also a dive guide, processes emails from the Austria office, chats with guests, and counsels his staff. Moosa and Malaq, the other 2 dive guides, are also tour guides for your day trip to Male.The dhoni crew start their day long before we awake. We got a glimpse of the boss Hussein when he boarded on checkout day, but he didn't speak to any of the guests, so his role may have been purely administrative. He may also have just ended a week's trip with another boat from the fleet.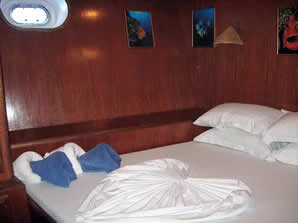 1 double or 2 twin beds
4 firm and fluffy pillows (definitely not the cheapo kind. I think these can rival the Heavenly Beds in Westin.)
2 towels per person - the white stays in your room, the blue you can bring out for sunbathing, diving, etc
1 wooden dresser shelf with mirror
1 wardrobe (with 1 shelf) with hangers
4 clothes hooks
2 three-pin powerpoint sockets and 2 multi-way adapter each
wooden floor
1 small porthole window (about less than a foot long and maybe about 15 cm high)
depending on your cabin, you may have a long ledge next to your bed
depending on your cabin, you may have a wall fan
air-con vent below knee-level (non-controllable despite thermostat dial)
There are two suites on the second level. These are more spacious, have got many more openable windows, individual split unit air-conditioning and a sofa.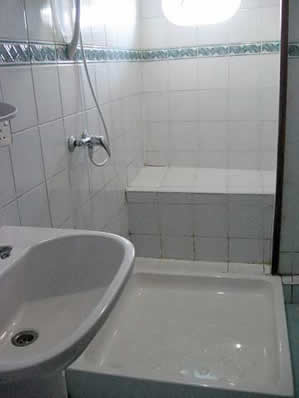 1 shower tray with hot running water and holdable showerhead. The Baani's plumbing system is very good - you won't get scalding water one second and cold water the next.
western style toilet with regular flush. Standing instructions are that only toilet paper can go into the toilet. ??? Go figure! (And see my notes on White Manta's common toilets to compare toilet flushes.)
2 clothes hooks on the back of the door
1 washbasin with handsoap, mirror and shelf to hold toiletries
1 small porthole window
depending on your cabin, there might be a ledge next to your shower tray under the window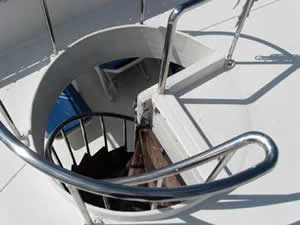 (1st level, rear) shaded deck with tables for eating and free flow of water
(1st level) indoor saloon with bar and plenty of chairs and tables
(1st level, rear) moderate-sized platform at the back of the boat with 1 dunk tank, 1 fresh water shower, 1 salt-water shower, ladder into the water, and 1 fishing rod
(2nd level, rear) shaded area with 10-12 deck chairs
(2nd level, front) unshaded area with jacuzzi tub (not working but it's too hot to sit there anyway)
(3rd level, rear) spacious unshaded rooftop with clothes line
---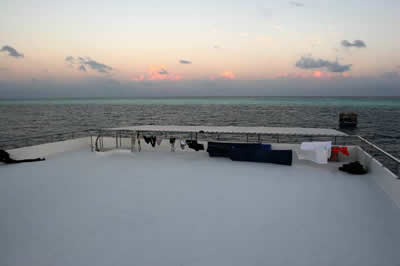 Actually if the boat is stationary and there's no breeze, especially on the 1st and last days when you're in Male, there is no cool spot. The coolest spot is in the water! But here are some of the other spots that won't tax your under-arm deodorant.
Although most aren't designated non-smoking areas, their openness means that cigarette smoke from smokers shouldn't affect you.
Rooftop: but only before 10am and after 3pm, and only when you are in the shadow of the mast-exhaust-thingy






Shaded Sundeck (2nd level): however, the Baani Explorer doesn't have enough deckchairs for everyone, so if they're all taken, you can't use this spot



Indoor Saloon (1st level): the bench next to the doorway in front of the bar. Can sit, read, or nap quite comfortably



Side or front of boat (all levels): but only before 10am and after 3pm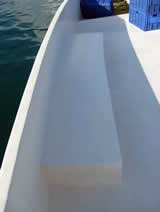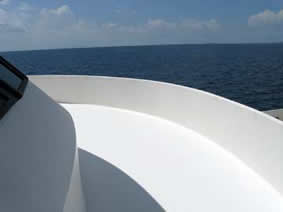 ---
Rooms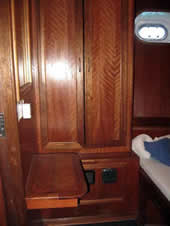 Wardrobe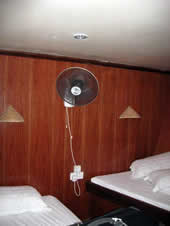 A wall fan if you're lucky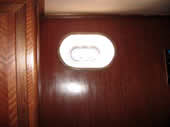 Porthole window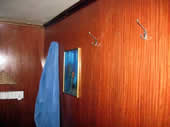 Plenty of clothes hooks
---
Bathrooms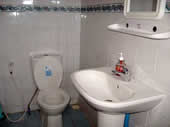 Spacious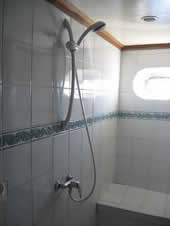 Good working shower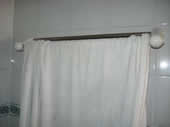 Fluffy white towels
---
Common Areas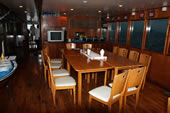 Indoor saloon (non-smoking)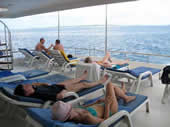 Shaded area with deckchairs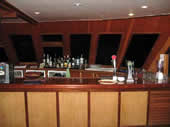 Well-stocked bar (in the saloon)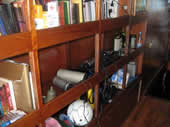 Library + 'charging' station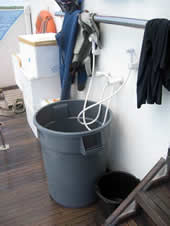 Dunk bin and shower (fresh and salt water)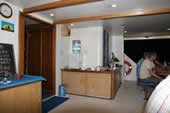 Shaded deck with free flow of water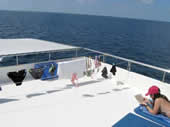 Clothesline (with pegs) on the rooftop