Baani Service
Chivalry Meter: Excellent
There are about 14 crew onboard the Baani Explorer.
There are 3 guides - Chaali, Moosa and Malaq. Guests have the option to hire a personal guide at a fee. We didn't try that though, so I'm afraid I don't have a review on that. But overall, the guides were quite fun to interact with, because each had their own personality. Chaali and Moosa took turns giving the dive briefings. Malaq was the first to talk to me when we arrived, and I liked him from the start because he was very understanding when I told him my apprehensions about strong currents. He said that with my number of dives, it would be ok. He was pretty much on every single dive, mainly to bring up the rear, but for one of the dives when my buddy and I ascended before the rest, he accompanied us up and also released the SMB.
Chaali is very fluent in English, and made us laugh a lot. He's the sort of person who could never offend anyone. I was a little frightened of Moosa when he wasn't smiling, but he said some funny things and I liked that he was very firm when it came to respecting marine life.
---
The dhoni captain and his crew are the BEST. They only refill your tanks when the guests are back on the boat, and they will move the dhoni away from the boat so that guests don't hear all the cranking noises and don't feel the heat from the compressor.
They help you get on and off, including silly girls who are afraid of heights or afraid of falling in, and when you end your dive and pass your fins and weight belt to them before climbing up the ladder, they'll put them in your crate in your place on the dhoni. They'll spot your SMB and come straight for you without delay, so that you don't have to fin much to reach the boat.
They're remarkably neat - I loved watching how methodically they put the mooring ropes into neat coils at all times. Even the weights were neatly arranged in rows in a crate.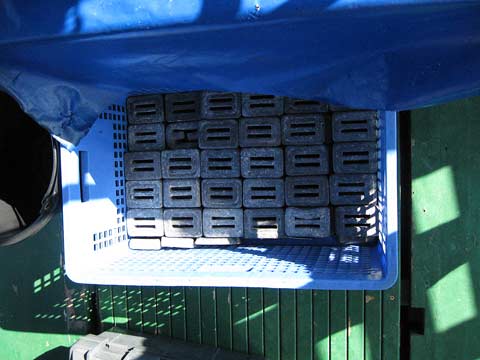 The weights are kept neatly on the dhoni
One of the crew, Chaeena, was so exceptional that I was quite sad to say goodbye to him. He cheerfully brought the one nitrox analyser to each diver, had something special to say to everyone, knew our names, and was the most exuberant guy on the boat. During the whaleshark dive, my husband and I didn't dive, but we joined the rest on the dhoni to snorkel. After the divers descended, this crew member guided us personally to a Whopper of a Whaleshark, the biggest of the five that day. He also turned unlikely spots on the boat into springboards and treated us to a wonderful display of somersaults and backflips. It was his unstoppable enthusiasm and friendly conversation that added the x-factor to the entire liveaboard experience.
---
There's this one guy (with great big hair) who seems to single-handedly keep all the cabins in order. He tidies up your room twice a day, does wonderful turn-down arrangements, and even has an air freshener when your rooms gets a little too stuffy. There's nothing like coming in from a long day under the sun, and seeing a made bed with crisp sheets and fluffy pillows and prettily-folded blankets. Best thing is, he does it so discreetly, eg when you're out diving or snorkelling or having dinner, that you hardly notice him. In fact, the maintenance staff are all very discreet. They also keep everything running so smoothly that you will never have to request for anything.
The staff also used one of those squeedgee thingies very regularly in the wet sections of the boat, so that the floor was always clean and dry.
---
Austria office - excellent. Efficient, friendly, polite, helpful. When you make your booking, the Austria office will send you the confirmation voucher, and also the local contact numbers. If you're arriving earlier than the check-in day, they will also ask you where you will be staying, so that the meet-and-greet can contact you in advance to tell you what time to meet at the airport.
Meet-and-greet: friendly, warm, and accommodating. If you're early and still have to wait for passengers coming off a plane, they'll tell you it might be a long wait, and you can chill at the coffee lounge. (Where I must say the teh tarik is quite nice.) However, they forgot to call us and inform us what time to meet, so we just called them first thing in the morning and asked them. Moral of the story: have those contact numbers handy! When we went at the end of March, there were 2 pick-up times. The first one was between 8.30 and 9am, when a plane came in from Europe via the Middle East. The second one was about 10 am. This will of course vary, depending on who is on what plane.
---