Baani Explorer Food
Baani Explorer has this amazing chef from Sri Lanka. He is friendly, enthusiastic, chatty and a True Sweetie. And he can whip up a storm! The serving staff are very sincere and do their best to cater to your needs.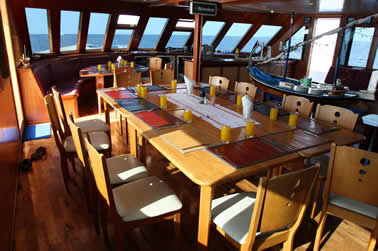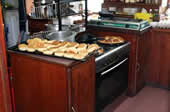 Freshly-baked buns for breakfast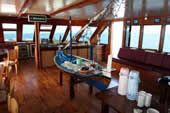 Fresh fruit, the occasional tuna salad, butter, jam, coffee and tea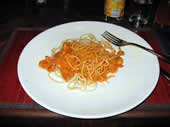 One of the many lunches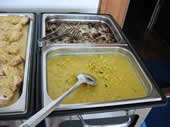 The curries were excellent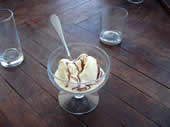 Ice-cream!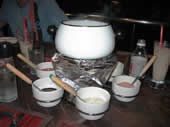 Fondue for dinner (beef, chicken, fish, squid, prawns and vegetables plus yummy spicy soup)
Breakfast was in the indoor saloon. You tell the chef how many eggs you want and what style, and help yourself to the buffet. The buffet Includes basic fare of cheese (a huge block), butter, jam, slices of white bread, and home-baked buns; plus cooked items which varied between baked beans, sausages, thosai, or pancakes (with honey and hershey's chocolate sauce). Sometimes there was also a cold dish of tuna and onion (I liked making sandwiches with that). There's also free flow of Sunquik orange.
Breakfast is always served after the first dive.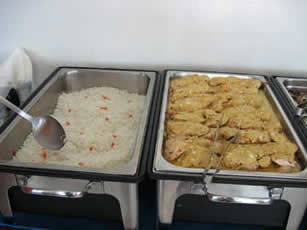 Lunch was buffet style, and on the shaded rear deck. There was always salad or a cold dish, rice, pasta or noodles, fish or meat, curry, and a vegetable dish (usually curry too). After lunch, everyone gets served a scoop of ice-cream (we went through vanilla, chocolate and strawberry flavours).
Lunch is always served after the second dive.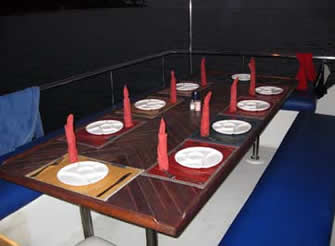 Dinner is a sit-down four-course affair with placemats and napkins! Appetisers were sometimes buffet-style, but most of the food, including soup, main course and dessert, were served to you. Appetisers included sashimi and varieties of cold salad and often soup (cream of mushroom, tom yam, tomato, etc). As the main course, there was fresh (and huge) tuna steaks, beef steak, and fondue. Dessert was also very nice and yummy and included ice cream, goreng pineapple, custard, pudding or fresh fruit. One dinner was on a little island with a hefty buffet of barbequed meat and vegetables (see pictures on the right).
Dinner was always served after the last dive of the day.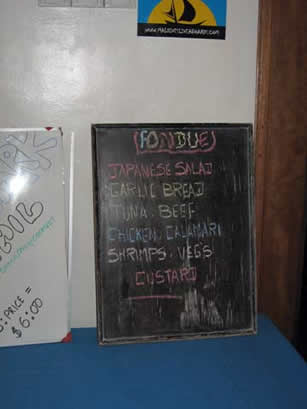 Dinner also came complete with a board telling us the menu for the day
---
Before your first dive in the morning, there are biscuits, coffee and tea to nibble on.
After your afternoon dives, the first place to go to after getting off the dhoni, is the lounge area. Why? Because there will be a plate of little curry puffs, or toasted sandwiches, or slices of chocolate cake - basically, you can look forward to a different snack each time. And it's not like it's rationed or limited to one piece per person - you can have more than one piece!!!
In essence, before your first dive you have a snack, after your first dive you have breakfast; after your second dive you have lunch and after your third dive you have a snack. They really take care of your tummy on the Baani Explorer.
---
The bar is stocked with common soft drinks like Coke, Diet Coke, Sprite and Fanta Orange, two beers on tap (Heineken and San Miguel) and a good range of liquor, wine and champagne for every alcoholic fix you can think of. Best of all - there was a really really nice bartender with the warmest smile. He also helped out at dinner time with the food. Oh, he's also a good dancer, together with the chef!
On the day we saw 5 whalesharks, we were treated to Baani's specialty Whale Shark Cocktail (a mixture of kahlua, rum, milk, coconut, chocolate and other stuff). Potent enough without pulling the rug from under you.
The bar closes at midnight.

---
Dinner on an Island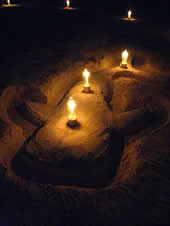 Candle-lit sand sculptures to greet you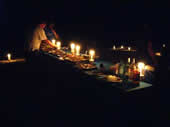 A long table of barbequed food including an ice box filled to the brim to quench your thirst and meet your alcoholic needs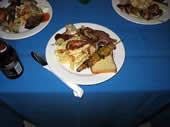 LOADS of food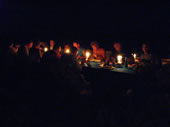 The sound of happy munching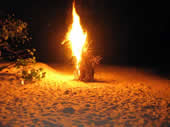 And a Maldivian 'bonfire' at the end