Food at Ellaidhoo Resort
The main restaurant is a covered but breezy place with a sand floor. Tables are good sizes (not too big, not too small) and chairs are comfortable. Food spread is buffet-style with good table layout (no traffic jams - but then again, we went in low season.) Once a week they have a Maldivian night - on this night, they splash out on the local food, eg. they serve not one but three types of curries. The desserts are also Maldivian-style, and at the very end of the dessert table, they served an assortment of traditional cigarettes. Quite charming.
It's the norm at Maldives resorts to be seated at the same table and be served by the same waiter throughout your stay. If you don't finish your bottle of mineral water, the same bottle will be left on your table for you to finish at your next meal. This is a pretty neat system.

If you're more into socialising though, go to Club Med. You can talk to the whole world there and never have to sit at the same table with the same people.
We went in July, which was low season, so the spread was quite limited. The chefs excel in curries and cakes and pastries. The pasta and sauces were acceptable, but the other oriental and western dishes (eg fried rice, roast beef) could do with improvement.

All in all, because I love curries and sweet things, I was quite happy with the food. If all the food was too good, or too bounteous, I would have ended up eating too much and suffered in my diving.

I know in another page I said that eating curry before diving was not a good idea, but when in Maldives I found out that it's ok in moderation. Be cautious at breakfast and lunch (yes, they had curry at breakfast, served with chapatti - yum), but pig out at dinner time.
---
Coffee or tea

Two types of juice (usually orange and either mango or pineapple)

Two types of basic cereal (corn flakes and coco pops)

Chapatti with curry* -

excellent



Omelette -

excellent



Pancakes -

excellent



Oatmeal -

excellent



Sliced bread - moderate

Criossants (very tough) - needs improvement
Plain yoghurt - tasted very nice with the omelette
*chances are, the curry was left over from the night before, but you see, curry is meant to be kept over a few days. The more often it is heated up, the tastier it gets.
One type of curry -

excellent

Popadams -

excellent



Plain white rice -

excellent



Fried rice - needs improvement

Roast beef - very tough

Leg of lamb -

excellent



Fried meatballs -

excellent



Pasta and tomato-based sauce -

excellent
---
The Coffeeshop
This is an alacarte restaurant next to the main restaurant. If you opt for the half-board option, you'll probably come here to have your meals.
Warning: the food here is prepared much slower, so it's not a good idea to order that Fish n Chips dish at lunchtime and hope to catch the 3pm dive boat.

The plus is that the food is much better in quality than the main restaurant. Prices range from US$10 upwards per dish.

Fine Dining by the Beach
The resort also offers a set menu for high-class food like lobster and fancy soup at their open-air beach-front restaurant.
We didn't try it though because the weather wasn't conducive. The menu looked tempting though.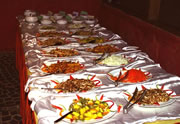 The appetiser buffet table on Maldives Night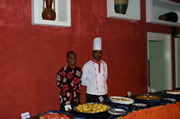 The dessert chefs - my favourite people!

Breakfast only starts at 7.30am. The first dive is at 8.30am. This means you have only half an hour to finish your breakfast, and if you're like me, a mad fifteen minute dash back to your room to clear your system, before dashing back to the dive boat. Everyday was like a military operation with a strict timetable. See suggested itinerary on the right.
Lunch is a bit better. Lunch starts at 1pm I think, and if you finish before 2pm, you have half an hour to nap and re-braid hair before the afternoon dive at 3pm.

Dinner only starts at 8.30pm. So on those nights when there isn't a night dive scheduled to keep you occupied, you have to bear with the hunger pangs.
---
Suggested Morning Itinerary
6.30am - get up, brush teeth, put on contact lenses, put on bikini
6.50am - braid hair
7.00am - assist husband in setting up camera
7.27am - leave room
7.30am - have breakfast
7.57am - brisk walk back to room
8.00am - sit on throne
8.15am - wash up
8.20am - run to water's edge to test camera
8.25am - run to dive boat