Menjangan is about a 2.5 hour drive from Sanur. It's part of a national park in the western part of Bali, and refers to Menjangan Island (Menjangan means deer). Access to the island is from Labuhan Lalang, where you hire a boat to the island. Labuhan Lalang is also where you buy a takeaway lunch before you board your boat (choice of fried rice, mee goreng or sandwiches). The boat trip to Menjangan takes about twenty minutes to half an hour. There are no toilets on the boat.
During the surface interval / lunchtime, your dive boat will probably stop at the "Pos II" ranger station and jetty at the island itself. You'll notice streams of locals dressed in traditional attire getting on and off at the jetty. They are visiting the Pura Gili Kencana temple which is believed to be centuries old.
Toilets
Go to the toilet before you leave. There may or may not be a pit stop at a gas station with basic but clean squat toilets (bring your own toilet paper). At Labuhan Lalang, I didn't inspect the public toilets so I don't know what they're like. If you're ok with holding it in till you get into the water, then do so.
Putting on your BCD in the Water
Your afternoon dive will probably start from Pos II. Warning: You will put on your BCD in the water. Sometimes this can be a little difficult if you're short, it's high tide, and you're sandwiched in between two dive boats. Do not be shy to ask for assistance from your guide, whether it's to keep a watchful hand on the boats before they squeeze you ala Luke Skywalker and the compactor, or to hold you still while you buckle up.
---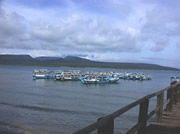 The Jetty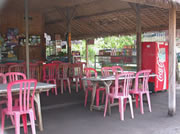 Where you get lunch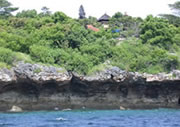 Menjangan Island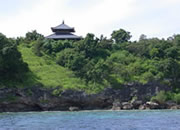 For our dives at Menjangan, we stayed at Aneka Bagus Hotel, which is located in Pemuteran, a short drive from Labuhan Lalang. Aneka Bagus is a very nicely done hotel, with first-class service, lush gardens, spacious Balinese-style rooms, and excellent food.
Aneka Bagus is actually a perfect place to unwind for a romantic weekend without having to dive. Definitely an A-list resort. It's not a dive resort though, so if you intend to stay here and dive, use a reliable dive operator like Bali Scuba to take care of your equipment.
Chivalry meter: Excellent
eg. Towards the end of our dinner at the hotel's restaurant, it began to pour. A waiter took the initiative to pass us a nice big umbrella so we could get back to our room without getting wet. We didn't even have to ask.
Rooms
We were very lucky to be upgraded to a villa, which has an outdoor shower in addition to a roomy bathroom. And the room's wardrobe is in its own enclave - I know you girls are nodding approvingly right now.
All rooms are nestled amidst a very nicely landscaped garden. Coming back to your room after a day out is like coming home, but better. Here you don't have to wash the dishes, or turn on the heater, or clean up your dog's poo, or hold your nose when throwing rubbish down the chute on a Sunday night, or make a mental note to do the vacuuming 'one of these days'.
Bathrooms
The bathrooms are so nice that the bedrooms are almost like mere add-ons. Fluffy towels (TWO bath towels and two hand towels PER PERSON), a huge vanity area, outdoor shower, indoor bathtub and shower, hot running water for both, and two-ply tissue. The outdoor shower is properly maintained too - no algae, no dubiously slippery stone tiles, and no dead animals from the garden. Full marks!
The hotel's restaurant has excellent food and excellent service. We were starving after our first day of diving, and too tired to explore the area outside the hotel, so we went straight to the hotel's restaurant and ordered copious amounts of food. Our satisfaction index was very high after that!
The pictures speak for themselves (it's ok to drool):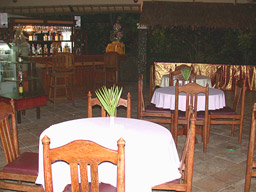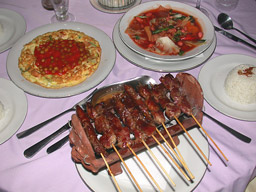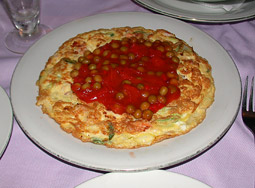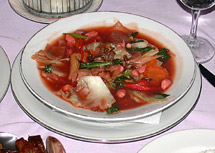 ---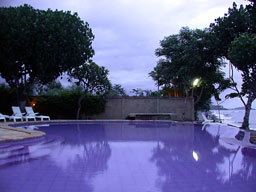 The tempting pool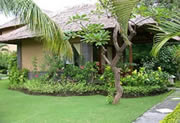 Lushly landscaped gardens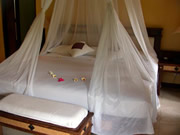 Imagine coming home to this...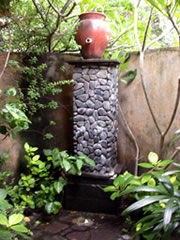 Outdoor shower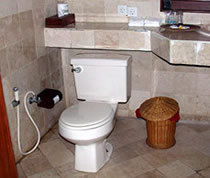 Spacious bathroom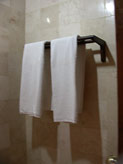 Fluffy towels!