Nusa Penida is an island off the south east coast of Bali. When I read about this place in guidebooks, what fascinated me was the local belief that the island is haunted. If something bad happens on the mainland, like disease or floods, the locals blame Nusa Penida. More specifically, they blame I Macaling, a legendary evil figure, whose home is believed to be in the Ped temple on the island. Upon further reading, I found out that the Balinese drama barong landung, is performed throughout Bali to protect villages from illness and evil spirits. In the drama, I Macaling is represented by a big black creature.
From our hotel in Sanur, we took a short drive to the coast (incidentally, the jetty area's old buildings have just been torn down to make way for a new resort. When I heard this, the hope that this new resort might be a 5-star one made happy bells go off in my head).
From the jetty, we took Bali Scuba's speedboat out to the Nusa Penida area. Entry into the boat was by wading into the shallow knee-high water (a bit cold) and clambering on. The boat ride took maybe half an hour to an hour. As we were on a compact speedboat, our dives were back-roll entry.
Once there, we did two dives in the morning, had lunch on board the boat, and did an afternoon dive. During the surface intervals, the boat crew fished for squid and we were treated to a Vegas-style fountain show of black ink.
* Latest news is that Bali Scuba has replaced the Silver Jack with a newer, bigger and spiffier boat.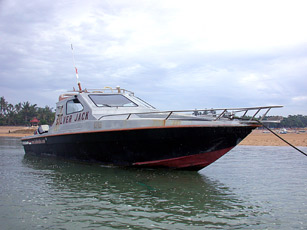 ---
The Dogs of Bali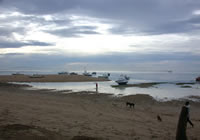 We went to the jetty in the morning to go to Nusa Penida. It was low tide, and the sleepy jetty and beach were sprinkled with boats lying on their sides, and a gang of stray dogs were going about their morning meet-and-greet routines.
There was a petulant corgi who walked with a limp (presumably the reason why he refused to join the main gang of dogs to gallivant over the rockier part of the beach - and then howled miserably when left on his own); and a friendly tail-wagging mutt who blissfully ignored the main gang and the howling corgi, and was happily occupied sniffing out little things on the beach until the main gang approached him at which point he just wagged his tail and they ended up playing a friendly chasing game.

As Nusa Penida is only a short speedboat ride away from Sanur, we stayed at a little unassuming hotel called Sindhu Mertha Guest House. It was located in Sanur, just across the road from Bali Scuba, and parallel to the street where all the eateries and hotels are (I noticed that some locals referred to this street as 'Hyatt Street' because Hyatt Hotel occupies a huge chunk of land along the street).
From the minute we stepped into our room at Sindhu Mertha, I was very impressed. The interior was tastefully done, the airconditioning was silent and strong, it was clean, neat, spacious, the mirrors were large, the artwork was lovely, and the bathroom was perfect. Even the night lighting was expertly done. The hotel's website calls itself Exclusive Bali Budget Accommodation, and while this is a good description, it's almost an understatement. From what we understand, the hotel's owner used to work in 5-star hotel chains around the world, and his experience definitely shows not only in the aesthetics of the place, but in the sincere service.
The small team of staff include three young men who are ready to answer all your queries, take your breakfast order the night before, offer to drive you to the restaurants even if they were only 10 minutes walk away, your chauffeurs for airport transfers, tell you how much a taxi will cost to go to Kuta, carry your luggage to and from your room, and loan you a huge umbrella when you go out for a walk. When I typically messed up the safe combination and couldn't get it to open, I called the front desk, and the young man who answered apologetically said his friend was the safe expert but had gone out, so if I could just hang on for 15 minutes. Then he came up himself to see if we were ok, and again apologised that we had to wait 15 minutes. The safe expert came pretty soon after and got it fixed. I was overcome with gratitude because they were just so nice.
Rooms
comfortable double bed with 2 fluffy pillows, 2 square cushions,
bedspread, and thick blanket

huge wardrobe

full length mirror

balcony (if you're on 2nd floor) or patio (if you're on the ground floor) with a small round wooden table and two small wooden chairs with arm rests

TV

small fridge with plenty of space for 2 large bottles of mineral water
Bathrooms
---
Sindhu Mertha didn't have an in-house restaurant, but its central location meant that it's only a 10-minute walk away from a range of decent eateries. All you have to do is go left after coming out of the hotel ie walk past Bali Scuba which is further down on your right), and when you reach the roundabout, turn left and you're on the street where all the shops and eateries are.
We tried Apa Kabar restaurant and Legong restaurant which were very tourist-friendly, and smack in the tourist strip of Sanur. Apa Kabar's menu even thoughtfully mentioned that mineral water was used for its ice and to wash the fruit. Both had a wonderful nasi campur platter, and Legong had the yummiest rock lobster.
Alternatively, Kuta is a 15-20 minute taxi ride away (about 50,000 Rupiah), and there's a HUGE range of choices there, from Starbucks and MacDonald's to Italian and Japanese restaurants.
If you don't want to go that far, don't worry. Near the hotel (within 10 mins' walk) are at least two 24-hour marts.
---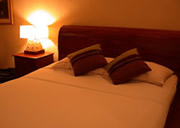 Lovely rooms at Sindhu Mertha

TV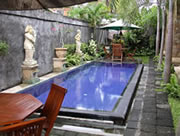 The swimming pool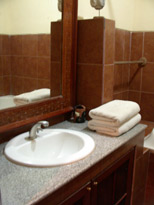 Good bathrooms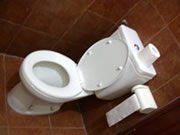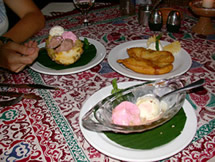 Dessert at Legong