This is a map of Bali. The gray lines are the roads which we took. As you can see, we encircled (clockwise) the whole of Bali and left the tail of the dotted line to Nusa Penida to the last of my DWS journey. (Footnote: Taxi trip to Kuta / Legian St is not here because it wasn't part of diving in general.)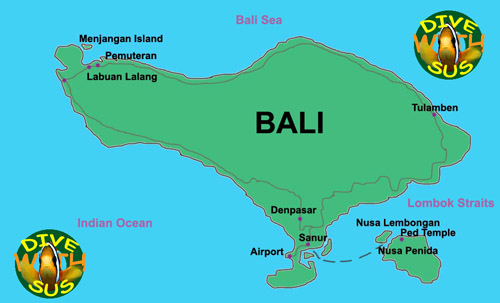 ---
Menjangan (Dives 1-3)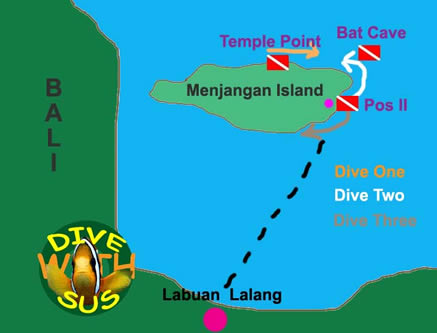 We did three dives at Menjangan, but the sites didn't have names.
The first was a wall dive headed Eastwards from the west of the temple jetty.
The other two started as shore dives from Pos II, going in a counter and clockwise direction respectively.
It's mainly a wall dive, and it's supposed to be the best in Bali. But visiblity in LSD was not the best. Many nice and healthy fans, a small school of bigeyes, and lots of reef fish, but nothing big. A nice place but it has yet to recover from the fish bombing.
On the northern western tip of Bali, the trip to Menjangan might not be all that worth it. Ideally, if we had more time, perhaps we could have included Gilimanuk and Secret Bay to justify the journey or do more dives at Menjangan. All the same, the road trip was fun. We'll go back in a couple of years when the place would have livened up.
One more thing - the bottom of the Wall can be seen (it's not a super drop-off wall).
---
Tulamben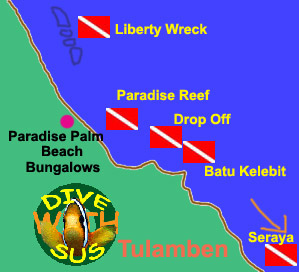 Walking over the rocks is one of the most memorable things of LSD (Low Season Diving) in Bali, because the water isn't calm enough to dive from Paradise Beach Bungalows.
To reach the start point for Liberty Wreck, one has to walk a bit, I guess about a hundred metres Westwards past Tauch Terminal and another resort to the Car Park area.
Entry point for the Drop Off is to walk hundred metres Eastwards past Mimpi Resort to the Batu Kelepit Jukung launch site.
Entry Point for the Paradise Reef can be from the Liberty Wreck Entry Point or the Drop off Entry point and swim back and forth in a Zig Zag direction.
Liberty Wreck is a good dive, and I suspect it would be even better in high season. In February, visibility wasn't that great and the school of Jacks weren't around. For better enjoyment of the dive it would be better to figure out which part of the wreck you are at or everything will be a heap of metal with coral.
Paradise Reef is a muck dive with a small area of reef. An excellent muck dive I must add. Seraya is also another excellent muck dive area. Lots of rocks for your guide to flip to find things.
Drop Off is just a small wall, but the resident Pygmy seahorse is there. If you pluck it off, the wall would be very much less attractive.
Dive 4 - Liberty Wreck
Dive 5 - Paradise Reef
Dive 6 - Drop off.
Dive 7 - Liberty Wreck (night dive)
Dive 8 - Seraya
Dive 9 - Seraya
Dive 10 - Seraya
Dive 11 - Liberty Wreck (night dive)
Dive 12 - Liberty Wreck (dawn dive)
Dive 13 - Batu Kelebit
Dive 14 - Tulamben Drop-off
---
Nusa Penida
We only dived the northern part. Visibility was good. Water was cold (24C). First time I saw the shimmer of a thermocline.
The northern area was mainly a reef slope. VERY healthy reef. The hard coral and soft coral and anemones fight for space. Billions of reef fish. No big fish though, they are mainly in the southern part. But no big fish = no fishing = pristine reef.
Of the three areas, Nusa Penida scored the highest in my opinion.
Dive 15 - SD Point
Dive 16 - Ped
Dive 17 - Toyapakeh
---
And as usual in DWS fashion with a gun to my head: For the best dives for this time of the year, head for Nusa Penida and Seraya.
Next (Diving in Bali - What You Will See)