Bali Scuba
Bali Scuba is a very professionally-run dive operator. Their equipment is the most well-maintained equipment we've seen, and you know, it makes you feel safe when you dive with them. Old, worn o-rings on your tanks do not exist here. Even the tanks themselves look nice and new. And you know how some dive operators have good equipment but the equipment used by their guides are tattered, leaky and all over the place? Not at Bali Scuba. On top of that, if you bring your own equipment, they will look after it very well.
The guide we had, Kirman, was very attentive and we particularly appreciated his enthusiasm at the macro sites because he seemed to really enjoy searching for tiny little things for my husband to photograph with his macro lens. I was also personally very grateful to him for steadying me on that rocky Tulamben beach, helping me with putting on and taking off my BCD in the water, and keeping a sharp eye on me during my first scrambly jukung experience. Simon, can I bring him with me for all our other dive holidays?
Bali Scuba really does the dive safari thing perfectly. If anyone owns the quality dive safari concept, it's Bali Scuba. They arranged everything from the minute you touch down, to tipping (including the porters on Tulamben beach), hotel check out such that all you have to do is return the key. On dive days, lunch is included, and if that means they have to print their own menus for a resort's restaurants, they do! On top of that, everywhere they go, they bring their own cooler box of ice-cold mineral water and soft drinks.
This is a first-rate dive operator. Highly recommended.
---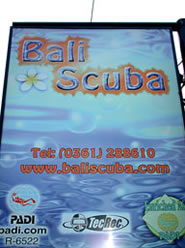 How we arranged our dive safari
We emailed Bali Scuba and told them how many days we planned to spend on our dive safari, and the estimated flight arrival and departure dates and times. If you're particular, you can give them your estimated budget.
We liaised mainly with Simon on the itinerary, via email. After we sent in our first query, we told him the rest of the important information like the number of dives we'd done, whether we were ok with muck diving, how many dives we wanted to do a day, and whether we wanted to do night dives.
Once we agreed on the itinerary, we just sat back and waited impatiently for the holiday to start. We made payment on our first day in cash (US dollars).