Salang Beach Resort, Tioman
If you're used to certain hotel standards, please remember YOU'RE A DIVER NOW. You won't get stone bathtubs, duvets, complimentary toiletries or hairdryers here. Neither will you get turn-down service or chocolates on your pillow.
Rooms
Rooms are clean and neat. Beds are comfortable. They come with thin blankets.

There are one or two shelves for your clothes, but I'm happy to live out of my backpack. Less chances of leaving things behind when I go home.

Floors are covered with a very thin carpet. Not ideal, given the warm humid climate, but you can't be too fussy.

Bathrooms consist of western style toilet and standup shower area and an extra roll of toilet paper (2-ply). No hot water, no towels.

Chivalry meter: Zero (You have to carry your own bags to your room after check-in.)
Must-Know
If you're staying at the far end of the resort (in the rooms where you have to press the green button outside), don't be surprised if you see a rooster perched on your front porch. It's the resident rooster. Warning: it doesn't know the time. So it will crow anytime between 2am and 6am. If this keeps you up, shoo it away, otherwise you'll be bleary-eyed and grumpy the next morning and totally unfit to dive.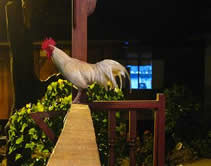 ---
Air-Conditioning

The air-conditioning units are split units with remotes. If you're staying at the far end of the resort you will need to press the green button outside your room to activate the electricity for the whole room, including the air-conditioning. If you're staying at the front end o the resort, you won't need to do this central switch thing.

If, like me, you sleep better in sub-freezing climates, set the air-conditioning to the temperature you like (I go for 18 degrees Celcius).
---
Tap Water

Don't drink from it. It is also advisable to brush your teeth with mineral water. If you have a hardy stomach, it probably won't do you any harm to use the tap water to brush your teeth, but for me, I'd rather take precautions so that I know my stay will be a happy one where my diving will not be stained by memories of indigestion.

But it's fine to use the tap water to wash your hands and put in your contact lenses.

If you have to wear retainers at night, better to leave them at home. It's just for a short trip.
---
Dive Asia is the resident dive operator at Salang Beach Resort. I've only had the pleasure of diving with one of their guides, and he was loads of fun. He made me laugh above and below water (great practice for clearing your mask!). Their captain Pak Mann is a lovely old man too.
---