How to Stay Stationary Underwater
We've all been through this. You're diving along and moving with the gentle current, staying in a relatively good position, you can see your guide, you're next to your buddy, then all of a sudden, your guide beckons to everyone and you all float over to where he is. He takes out his magnifying glass and shows you a fascinating nudibranch. Each diver takes turn looking at it with the magnifying glass. A few of them take photos.
So you're hovering there trying to make sure you don't kick up silt, you don't kick another diver, you don't become positively bouyant, you don't touch this, you don't touch that, etc etc etc. So, here's a list of things you can try to stay stationary underwater without doing too much damage. Please email me if you can think of more ways.
If your buddy is good at maintaining his own bouyancy while staying stationary:
Hold on to your buddy.



Have your buddy clip on a short tow line on to his side which you can hold on to.



Hold on to your buddy's tank, or the neck of the tank's valve.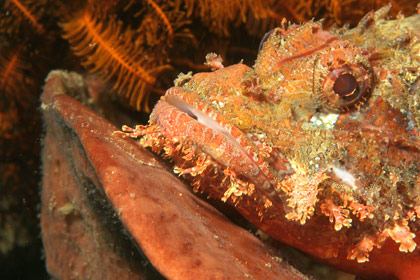 If your buddy is just as bad as you:
Use a pointer (the one which you stick into the sand)



Hold on to a rock (this requires a bit of luck though). Check out the scorpionfish on the right - you want to be really careful before you grab hold of anything.



For long stops, like manta-spotting at cleaning stations, I find that kneeling upright with a back-plate restricts my breathing. It's more comfortable to incline myself a little forward. The ideal position, for me, is to be in a push up position. In the manta picture below, that's me on the left. I know, I know, I look ridiculous but it was more comfortable that way!