Yap Divers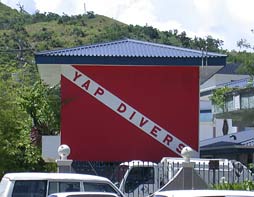 I love order and good organisation - and this efficient dive centre gives me that indescribable joy that only a Singaporean can feel when seeing a well-run place. For example, when you check in at the hotel, the usual dive forms are already in your room to fill up later in your own time, so you immediately go on an orientation tour before you get your room key. Of course the tour will include the dive centre which is located in the hotel premises. At the dive centre, look at the notice board which shows the next day's dives. Your name and room number will be up there, with a designated time, and on a designated boat with the name of the captain. That's not all. The dive centre will ask you if you want Nitrox, and if you do, a marker pen appears out of nowhere for you to mark an 'x' next to your name. Like I said - indescribable joy.
And the great thing about this efficiency is - they still have the thoughtfulness to tell you to take your time, you're on holiday. There's no ticking off if you're 2 minutes late. On our last dive day, the manager came up to us and asked us what time we wanted to start our kayak tour the next day (they don't just look after your diving). We were like, oh, anytime you want. Later on he came up to us and said "I've put you up for 9 o'clock ok?" I prefer to just do as I'm told and not have to make any decisions when I'm on holiday, but I thought it was very sweet of them to ask, creating the perfect balance of making us feel involved but without taxing our brain cells too vigorously.
---
an enclosed but airy room to store your dive gear (with ceiling fans that seem to be on all the time)



tall cabinets (door-less) with space to hang and dry your wetsuit (and a few hangers, not just one per person), and wide shelves for your dive gear - these shelves have your name on them so they're yours for your entire stay



cubicles for cameras with a desk lamp, a little overhead shelf and a lockable cabinet below to store your camera stuff. And I think it's important to mention that there's a room with computers in it where Mike Veitch (the resident photographer - a very good one too) does his stuff... plus a wall-mounted TV that shows his videos. This is to illustrate that this place really knows what photographer divers need.



a glass display case with Manta Ray Bay souvenirs like caps and croakies for your impulsive shopping before a dive or kayak tour



a well-stocked equipment room neatly laid out with fins, snorkels, masks and other stuff for rental



a nice big map marking out the dive sites and kayak routes



a resident cat who's very friendly and also the Head of Dry Cleaning (he was curled up on my husband's wet dive shorts one night).


---
3 dunk tanks for your dive gear



2 dunk tanks for cameras ONLY



two areas to hang your wetsuit under the super-efficient Pacific Islands sun, and this is with custom-made steel thingies, not plastic hangers. It's even got steel thingies to hang your booties on.



Yap Divers has a few dive boats which can fit 7-8 divers comfortably without the Cramped Tioman Effect, and one larger dive boat called the "Popou" that accommodates 22 divers. And from what we observed, their boats had much more shade than the boats of other dive operators.
---
I suspect manager Jan is instrumental for the well-oiled machine that is Yap Divers. On top of that, he is affable, smiley and sincere.
The resort's system is to assign one guide to you throughout your stay, which is good because the guide gets to know your idiosyncrasies to the point that he knows whose leg can be pulled and what to tease you about. (Once we heard John asking Tim Rock if he'd taken off his lens cap just before going in.) But because of that, we didn't really get to know the other staff, so I can't really showcase as many people as I'd like to here.
Anyway, the hotel assigned John Pekailug as our dive guide and captain, and it was only after our trip when I discovered how lucky we were to have him because he is one of the most experienced guides at the resort. This laidback, smiling crinkley-lines-around-the-eyes guide can see mantas a mile away, arrange for a cleaner shrimp to give you a ticklish manicure, and give you a tutorial on how to chew betel nut. The best part is - he looks out for every single one of us. In the middle of a long wait for mantas or watching the shark feed, if I look round for him (you know, in case at that very moment he needs to signal some emergency to us), he's right where he's supposed to be, AND he'll promptly ask if I'm ok. Which melts me like butter :-)
John was also our boat captain for our kayak tour, and he hauled three kayaks onto his boat as if they were toy canoes.
---
When you arrive, unpack your bags in your room and bring your dive gear to the dive centre. There will already be shelves marked out with your name (have I mentioned that I love how well-organised they are?), and that's where you put your stuff.;
It would be helpful if you keep your BCD separate from your mask, fins, wetsuit and all the other stuff that isn't attached the tank. This is because prior to your dive, they will bring your BCD to the boat, and rig it up to the tank. (AND they rigged up our Halcyon back plate perfectly! [happy-sounding jingle])
You can also hand in your dive form, and show your certification cards and dive log to the manager. (This you can also do the next morning though - just go down a little earlier before your scheduled dive.)
That's all there is to checking in. Easy-peasy.
You are not required to do a formal check-out dive with underwater safety drills. Anyway, chances are your first two dives will be manta dives where you just crouch and wait.
---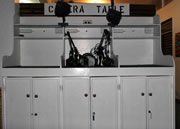 At last, space for more than one photographer!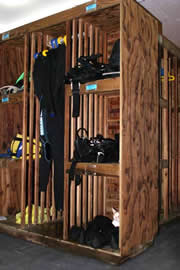 Spacious lockers - the blue labels have your name on it!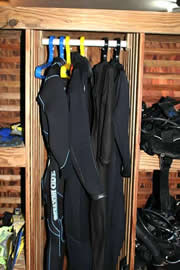 More than one hanger per person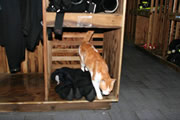 Free (but random) drycleaning services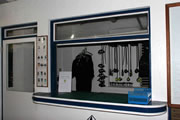 Neatly laid out equipment for rental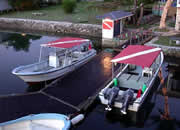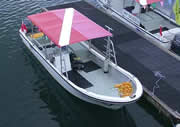 Dive boat (backroll entry)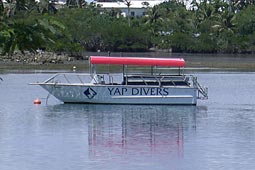 Popou, their larger boat with a capacity of 22 divers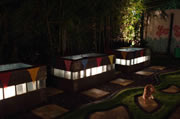 Plenty of dunk tanks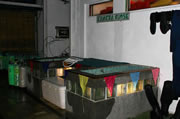 Dunk tank for cameras only