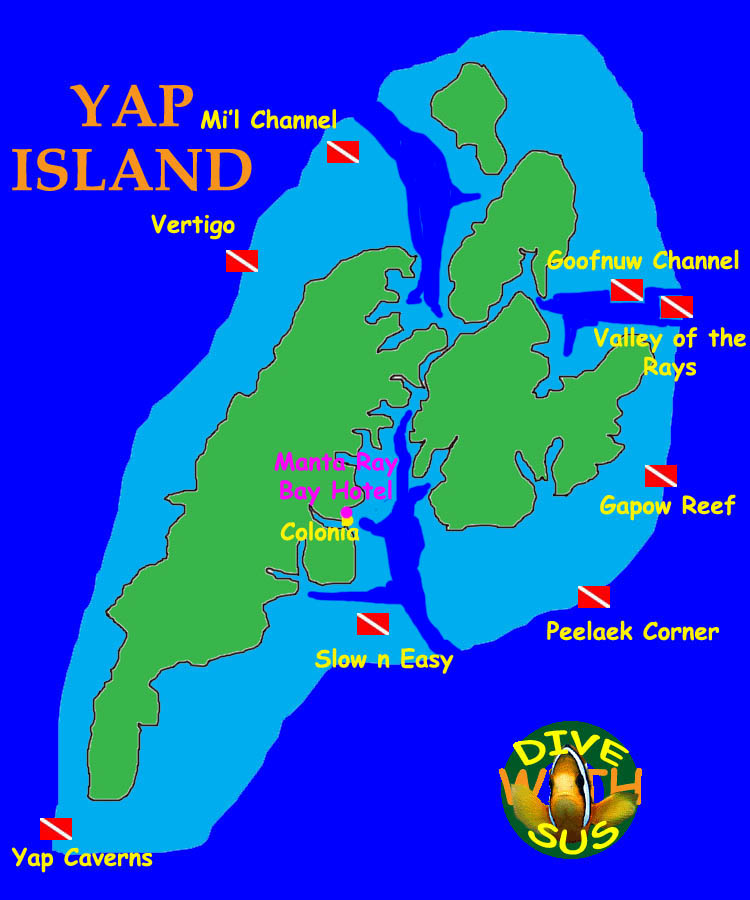 Yap Island is made up of four islands, and together with the outer islands, they form Yap State. Yap Island is largely a mangrove island, and there is only one stretch of sandy beach in the northern part.
From Colonia, you can head north to Mi'l Channel, traversing through the German Channel that divides the two southerly islands, but only if the tide is high enough.
You will do a lot of diving in the Mi'l and Goofnuw Channels. I found that Mi'l Channel was a nicer dive site as it was a larger and deeper channel. There is also a ridge where you can perch yourself and look into the blue and look out for mantas coming in. While waiting, we saw white tip reef sharks and a large school of jacks. In the end, mantas didn't appear while we were there, but we heard from other dive boats that they turned up in the end - while we were in Goofnuw!
That's not to say that Goofnuw is not good. We also saw white tips there, eagle rays, giant marble rays, turtles, schools of bumphead parrot fish and a pair of Oriental Sweetlips hiding among the rocks of the cleaning station. Also, as Goofnuw's upper cleaning station is in a narrow channel, the mantas actually come quite close.
---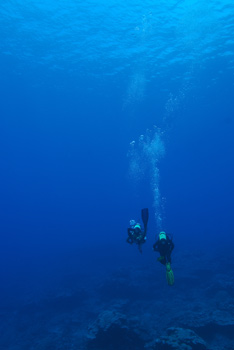 Visibility
The visibility on the reefs is unbelievable. Easily 30m+. If you don't believe me, think how I felt during one dive when I looked up and saw the water surface (looking deceptively near) and then looked at my computer and got the shock of my life. If I hadn't checked my computer I would have gone too deep! (See the picture on the right - the shot was taken at 23m.)
At slack high tide, visibility in the channel would be easily 15+ metres.
---
If you're going to Yap for diving, chances are you're going for a few manta dives. Manta dives are usually stationary dives. We go down, sneak up to the bottom of the cleaning station and WAIT for mantas. If no mantas appear, we move to the next cleaning station. Goofnuw and Mi'l Channel have a few cleaning stations each. The local guides will decide which cleaning station to go to so just follow them. They'll also tell you exactly where to wait. After a few times, you'll figure out the best spots for taking photos.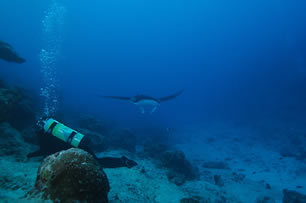 As you'll be stationary for a long time, keep warm. Most divers wear gloves and some of them wear hoods. Remember to over-weigh yourself so you can sit down and not fight to stay down especially with a strong ebbing or flooding current. If you use a backplate and no weights, you might find that adding one weight to your bottom tank strap will help. I find that with a backplate, kneeling upright like the other divers using jacket BCDs, restricts my breathing. It's more comfortable to incline myself a little forward. In fact, the ideal position for me is to be in a push up position.
---
Because of the seasons the Mantas tend to congregate in Mi'l for mating from Dec - April and can be seen in numbers. So some say that would be a good period for Manta-spotting. However, a very nice HK couple (who dived with us) James and Sandee were in Yap in January (their first visit in Yap was ten years ago!) and saw mantas on one day only, and they were told that September might be a better time, so they revisited Yap again in September. However, opinions vary - our guide John (guiding for 14 years as of 2006) suggested May/June.
So when exactly is one more likely to see mantas?
Generally, mantas will go into the channel any time, but more likely in the morning, especially during the high tide and also when there is a full moon (as the tide tends to be higher). The channel is quite deep all the way up to the mangrove so even at low tide it's possible (but more unlikely) to spot mantas. This is especially true for Mi'l Channel because it's much deeper and wider then the Goofnuw channel.So, it would be best to go when the
re is a full moon and during the high tide in the morning. The diver operator may still go on manta dives in the afternoon though, and there's no harm trying.
With these considerations and the limited flights, the choice of your Yap vacation dates narrows down significantly. For example, if you're travelling via Manila (where Manila-Yap-Manila flights are only on Wednesdays), try to choose a date when the high tide is about 8am on your first day and about 12 noon. You can't predict nature, and there's no guarantee that you'll see mantas on the days you do manta dives, but it always helps to do some homework to maximise your chances. So make full use of the tide tables.
Tides and Visibility
There's more. Tides can also affect visibility. We found that visibility was best around slack high because currents are minimal - at the most you'll experience a slight ebb or flooding current. This makes an easy dive and is great for photography. That occurred on our 3rd - 5th diving days as the slack high was from 8.30 -11am.
The first two days, the slack high was much earlier (at about 7-8am), and by the time we reached the dive site, the ebb current was really strong. The visibility dropped (but still better then Aur!), the current was really strong (a reef hook which we borrowed from John was a life saver here), we had to hide and hold on to rocks. While we waited, we watched a constant flow of leaves flowing with the current. Then for the safety stop, we had to cling onto the mooring line like superman. The current at the surface was 1-2 knots!
But you don't want zero currents, because mantas prefer a little bit of current because they use it to float stationary at the cleaning station. At one point the current pushed us past a stationary manta who was hovering a foot or two above the bottom, and it must have been wondering why we were having so much problems!
A few good links to read on currents and tides:
http://www.boatsafe.com/kids/tides.htm
http://en.wikipedia.org/wiki/Tide
---
Day Trip - 3 dives (with lunch on board)
This was mooted to us by the dive guide. Unfortunately, we didn't take it up as the other divers wanted to only do 2 dives a day. Initially you might think 'yeah right the guide probably wants to go home early', but it's really because in low tide one cannot traverse the island during low tide and the alternative, going around the island, might take too long. So the third dive is usually on the eastern side of the island. But then if you're only here for the mantas it doesn't really matter.
---
Dive 1 - Goofnuw Channel
Dive 2 - Goofnuw Channel
Dive 3 - Slow n Easy
Dive 4 - Mi'l Channel
Dive 5 - Yap Caverns
Dive 6 -Valley of the Rays
Dive 7 - Goofnuw Channel
Dive 8 - Goofnuw Channel
Dive 9 - Goofnuw Channel
Dive 10 - Gapow Reef
Dive 11 - Slow n Easy
Dive 12 - Goofnuw Channel
Dive 13 - Peelaek Corner
Dive 14 - Vertigo
Dive 15 - Slow n Easy (night dive)
---
Next (Diving in Yap - What You Will See)