Manta Ray Bay Hotel, Yap
Manta Ray Bay Hotel is located in Colonia's town centre, about 15 minutes' drive from the airport. It's right on the bay, so your walk from your room to the dive boat is barely 2 minutes.
Manta Ray Bay Hotel is a genuine dive resort, because it really does operate around divers. See, some dive resorts have nice accommodation with a basic and dank dive centre hidden in some corner like staff quarters, other resorts are the other way round, and some are just average in both areas. Manta Ray Bay Hotel is good at both, so it passes DWS standards with flying colours.
Service standards are excellent too. You can see that great pains are taken to ensure that the staff deliver good and sincere service. A lot of thought is also put into creating a cozy, friendly, no-airs-and-graces ambiance so that the guest experience is warm and pleasant.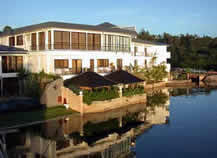 In September 2006, the hotel had a grand re-opening after an extensive renovation which included a new wing of rooms and other refinements. We were given a new wing room which we were very happy with, and my brother's old wing room was just as good.
Manta Ray Bay Hotel has a pool (tiled with two mantas at the bottom). At one end is a mini-waterfall thingy with a rock wall, and it's fun to wade over and sit behind the waterfall.Then along its length, you can gaze out to the sea.

Large towels are thoughtfully placed next to the pool together with a towel-bin so you don't have to carry it back to your room or leave it in a messy pile on the floor.
The hotel also offers non-diving activities such as kayak tours and cultural tours.
---
Manta Theme - Cheesy or Nice?
To be honest, before I got there, I thought that the manta theme would result in a very cheesy Las Vegas sort of place - but I was wrong. The whole theming thing is done quite tastefully.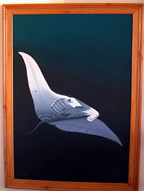 One of the nice pictures on the walls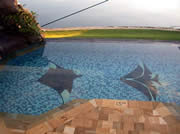 Manta tiling in the pool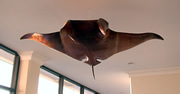 A wooden manta suspended from the ceiling
adjustable air-conditioning



queen or king sized beds, depending on which room you're allocated. According to the hotel website, some of the rooms have waterbeds too, so if you're inclined towards that, ask them for one!



bedspreads, shower curtains and framed pictures on the wall are themed according to the name of your room. Our room was the Jellyfish room, so everything was jellyfish. Pretty cool.



a table which is ideal for cameras because it has shallow drawers to store your cords, memory cards, storage devices, lens cleaners, etc



a wardrobe with shelves, drawers and hangers that aren't mis-matched



combination safe



luggage rack



balcony with two wooden armchairs and a coffee table



LCD television with DVD player (but no access to local channels or cable)



IDD phone



digital radio-clock



a combination of warm lighting (as opposed to harsh white light) with plenty of lamps all over the room, so that you're not peering through darkness when trying to remove dust from your lens or reading details from your dive computer



adequate floor space to spread your dive equipment when packing on your last day!



some rooms have a little fridge



---
toilet and large shower area with hot water and the usual 'spray-mode' options. Showerhead is fixed to the wall.



1 face, hand and bath towel per person (with towel rack)



1 white cotton floor mat



two-ply toilet paper plus one spare roll. Toilet roll thingy is sensibly located (no back-twisting required).



complimentary shampoo, conditioner, talc, body oil and bar soap



sink area has a large mirror and adequate vanity space for hairbrushes, contact lens solution etc



hairdryer



two tall glasses



full-length mirror



---