Eating in Yap
Manta Ray Bay has one restaurant which serves breakfast, lunch and dinner. It's on the Mnuw, a huge vessel that's permanently moored to the dock. When we went in September, daily meals took place on the two upper floors, and on special occasions, the first floor (air-conditioned) was opened up as well. The second floor is enclosed but not air-conditioned, and has large windows so it never gets hot. The third floor is open-air but protected from the sun by overhead canvas sails. Both floors have a bar.
I liked to have breakfast on the second floor because it's nice and cozy, and dinner on the top floor where you can enjoy the evening breeze with a glass of home-brewed ale.
You can choose to purchase a meal plan at the resort. They have Breakfast Only meal plans, Breakfast and Dinner Meal Plans, and full board. (Check their website for the latest prices.) We chose not to go on any meal plan because we wanted to explore the eateries outside the hotel.
For special occasions, the resort may throw a barbeque. They'll pull out all the stops and give you a lavish buffet including an entire roasted pig and woven plate holders.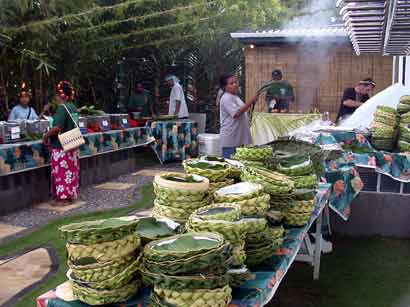 ---
Drinks
The resort has its own microbrewery, and I love their dark beer. Their light beer is also nice, but, well, it's light. The dark beer kicks ass. There's also a range of house cocktails with tempting names such as Manta Sunrise, Manta Sunset, Manta Shake and Manta Colada.
Starters
Their sashimi is very fresh, and they have the option of blackened sashimi as well, which is really black pepper on the sashimi. Their powerful wasabe will clear your nose and open the pores on your head instantly. In fact, they should serve it for breakfast to divers who are prone to sinus in the mornings.
I didn't try their other starters unfortunately - their sashimi was so good that I forgot to pay attention to what other starters were available. Sorry!
Main Course
For breakfast, there's a pretty wide choice. Here are the few which I remember:
American breakfast with 2 eggs (done your way) with spam or bacon, toast, fruit, coffee or tea
Yap Power Breakfast (this was my favourite) - fried rice with two eggs done your way (I liked it poached or sunny-side up), fruit, coffee or tea. The menu also says it comes with a chilled coconut but I never got it so it could be upon request.
3-egg omelette filled with cheese, ham, mushroom, jalepeno, tomato... did I forget anything else? You can mix and match the fillings.
Continental breakfast (toast, jam, fruit, coffee or tea)
Other stuff which I didn't try because I couldn't get enough of the Yap Power Breakfast
Oh, if you ask for a wakeup call, the usual telephone call will be followed immediately by coffee and tea delivered to your room.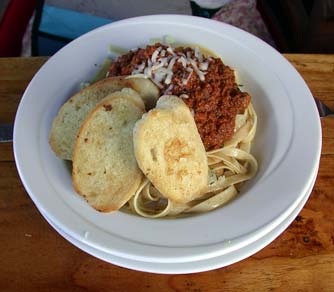 For lunch and dinner, the MNUW serves hearty Western-style meals, most of which are a choice of fish and other meat accompanied with potato or rice, and vegetables. They also have at least one vegetarian dish, and one dish with local flavour (eg curry). The dishes are given unique names that divers will appreciate - like Macro Dream, Manta this, and Manta that. The dishes change every day, and the menu is written nicely in coloured chalk onto a black board about a metre high which the staff cheerfully carry around, no matter where you choose to sit.
Dessert
Their chocolate cake was quite yummy, and they also had ice-cream in a couple of flavours. Their home made cookies were also very tasty! I can't remember what other desserts they had, because I was usually too full for that.
---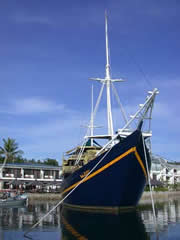 The Mnuw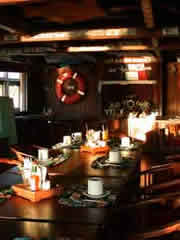 Inside the Mnuw
---
Is the Mnuw Senior-Friendly?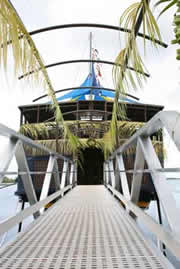 Access to the Mnuw is through this steel ramp which is very solid, so you won't ever feel rocky. And even after rain, it's not slippery because they've put on rubber strips or something.That said, the Mnuw is still a boat, so it may not be easy for seniors or people with knee problems to navigate the stairs once inside.
The ramp was custom-made just for the Mnuw by a New Zealand company because it had to accommodate the boat shifting left, right, up and down with the tide and current.
---
Mnuw Service
Food takes about half an hour to come after you give your order, so do take this into consideration especially before your first morning dive.
The staff are very cheerful. Full marks for sincerity. If it's too dark to read the blackboard menu at night, they'll whip out a torch and shine it on the menu for as long as you take to decide what to order.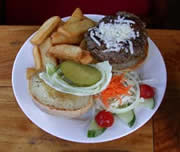 There are a few good places to eat outside the hotel, and all within walking distance.
The bakery is on the right of the hotel, across the road, past the bridge and next to the school. It sells home-made bread and buns (good for light snacks), and occasionally a meal for lunch. The bakery is where I bought - and actually finished - a whole can of root beer because it was so good (I don't usually finish carbonated drinks!)
For a good wholesome lunch for half the price, our favourite was Ganir Restaurant. This was located to the left of the hotel, on the same side of the road, in the main building in Colonia (you can't miss it). Ganir is located on the second floor, and air-conditioned. Although they were always out of fish, their chicken, beef or pork dishes were all good. They even served banana ice-cream. I think it was run by Filipinos. Locals go there so it must be good! When we were there, we saw the resort's resident photographer, the dive centre manager, and the chief of security all dining at different times. We also met a vivacious and charming lady who runs Nature's Way, another dive centre in Yap.
In the same building is the YCA Store (Yap Cooperative Association), the local supermarket, and the pharmacy / drug store. All air-conditioned.
Another alternative for meals is the Oasis restaurant which is opposite Manta Ray Bay Resort and O Keefe's Waterfront Inn. This is the open-air eatery by the roadside. It also serves nice home-cooked food (their Daily Specials are worth it), but the heat and occasional flies may take some getting used to. This is easily resolved with a huge glass of their iced tea, which comes with syrup on the side. Yummy! At the end of the day though, my verdict goes to Ganir Restaurant.
Behind Oasis restaurant is the O Keefe's Bar & Grill, which we didn't try because we liked Ganir so much!
A word of advice: wear a hat when you go out in the daytime. The searing sun can be painful.
---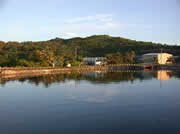 The building in the centre is the bakery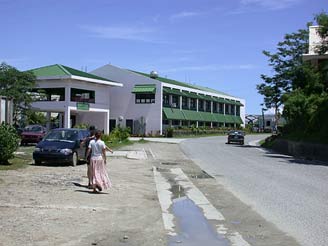 Colonia's main building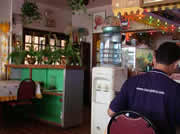 Ganir Restaurant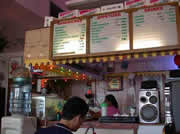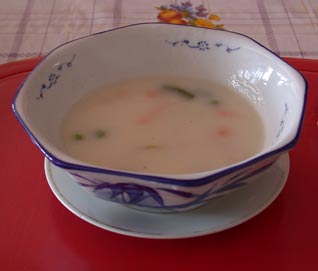 Good home-cooked fare (not from a can!)