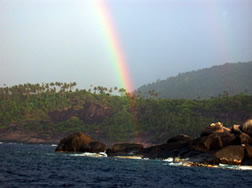 The White Manta is a very well-run and well-organised dive liveaboard boat. It's large and spacious, so that at full occupancy, there is always space to lounge around and there is rarely a queue for the toilets.
What I like about it was its SYSTEMATIC way of being run. Before you depart Singapore, there is an extensive and very clear briefing for all guests. During the trip, the crew adheres to a steady routine that brings assurance to worriers like me. For example, a foghorn is sounded before meals, before dive briefings, or for emergencies. The ice box and mineral water are topped up regularly, rubbish is cleared frequently, there are always enough cups next to the drinks area, dive chops and ink-pads are kept neatly in a clean tupperware box, and there are clothes pegs that fit the thick railings of the boat. I've written more about their dive operations under Dive Facilities & Crew below.
Chivalry Meter: Excellent
---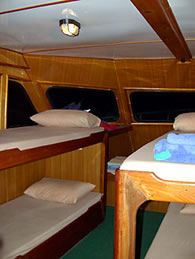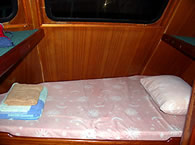 This was the end bed in the 5-pax room, and what I liked about it is its view of the stars at night and the blue sky in the morning.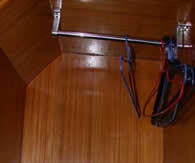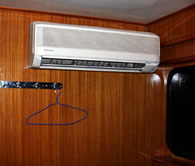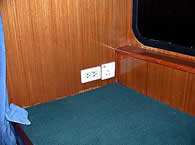 Notes from the Not So Small Bathrooms
1 Only human waste can be flushed down the toilets. Tissue used to wipe yourself MUST be thrown into the covered bins. The pre-departure briefing covered this, including a demonstration with the tissue! After that, every time I sat on the throne, my eyes couldn't help but be drawn to the ordinary bin in the corner.
But don't worry, the crew empties the bin frequently. When I was onboard with 25 other guests, the toilet never smelled.
2 At the start of the trip, during the extensive pre-departure briefing, we were told to be considerate to fellow guests and don't take too long in the bathrooms. I was so worried about keeping others waiting, that I just couldn't relax to do my thang, so I couldn't clear my bowels the entire weekend.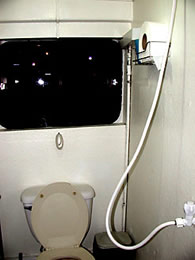 Note: When I went in March 2007, White Manta had no ensuite rooms. But since then, they've renovated the boat, and there are now ensuite rooms. I think there are also non-ensuite rooms if you want to save money, so now everyone is happy :-) But until I go on another trip aboard the White Manta, I won't be able to give a review of the ensuite rooms.
Bunk beds with firm mattresses
Airconditioning with adjustable temperature (split unit)
1 fluffy pillow (about 6 inches thick) per person
Bedsheet provided
1 towel per person
Plenty of wide shelf space for your luggage
Some hangers
Plenty of clothes hooks and all over the room too, so there're enough for everyone without having to hang your wet towel next to your room-mate's dry t-shirt
Carpeted floor
1 small wall mirror
Windows (size of windows varies in each room)
One ceiling light. Lower bunk beds have a reading light (warm yellow) at the head of the bed (a very nice touch I thought).
No turn-down service
---
Bathrooms
Disclaimer: As I haven't been on board the boat since they renovated and created ensuite rooms, the common bathrooms may not be the same as what's reviewed here.
There are three common spacious bathrooms. Two are bigger than my bathrooms at home!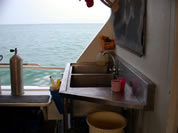 Although two of them don't have handsoap dispensers, you can still wash your hands with soap, after using the loo, from the huge aluminium sink in the common dive area. This is important because you will be handling soiled tissue in the toilet, and after your visit to the toilet, you might be helping yourself to fresh fruit with your fingers.
Bathroom 1 (large) - toilet, two-ply tissue paper, adjustable shower (hot water), sink, plenty of clothes hooks, wire rack to place toiletries, bin. Water heater looks more hi-tech than the one in Bathroom 2, but I never got a chance to use it because it was always occupied so I guess it must have been fairly good.
Ideal for: hot shower at the end of the day.
Bathroom 2 (large) - toilet, two-ply tissue paper, adjustable shower (hot water), sink, plenty of clothes hooks, wire rack to place toiletries, handsoap dispenser at sink, bin. Water heater takes a while to heat up.
Ideal for: quick lukewarm showers in between dives and because it's less sought after than Bathroom 1, and also for hot shower at the end of the day because by that time the water would have heated up.
Bathroom 3 (small) - toilet, two-ply tissue paper, adjustable shower (cold water only), bin. No sink. Plenty of clothes hooks.
Ideal for: quick cold showers in between dives, and urgent toilet breaks especially in the middle of the night because it's the closest toilet to the cabins (but don't forget to wash your hands with soap at the large aluminium sink outside).
DWS HANDY TIP - The B.U.T.T. Bag
(for when you don't have your own bathroom)
Before you go for your shower, pack a B.U.T.T. Bag*:
B = Bag (plastic) for dirty/wet clothes
U = Underwear
T = Toiletries / Toiletry bag
T = Towel
*Any supermarket plastic bag will do, but if you want to be a bit more glam, use one of those sports drawstring bags which can be folded and flattened when packed.
I devised the BUTT Bag after I kept forgetting to bring something for my shower, and I would have to scamper back to my cabin, and scamper back to the bathroom before someone else went in.
I didn't bother putting fresh clothes into my BUTT Bag (too many things already) so after my shower, I put on clean underwear, wrapped my towel around me, grabbed my BUTT Bag and walked back to my cabin to put on the rest of my clothes.
---
I said it before and I'll say it again -
Chivalry Meter: Excellent
Before your dive
Once you

rig up

your equipment (when you board the boat), your equipment stays with that one same tank until after your last dive. The boat is equipped with a whole refill-system thingy so that YOUR tank gets refilled without you having to move anything.



Your fins, mask, etc are in a blue plastic dive box underneath your tank and BCD. This remains the same throughout your trip.



The time of the next dive is written clearly on a whiteboard in the dining / hangout area. If you went to bed before checking the board for the next morning's dive, don't worry, the crew will do a wakeup call the next morning ahead of the dive.



Every dive is preceeded by a

dive briefing

that will always tell you the route, minimum and maximum depth, maximum bottom time, possible marine life to be seen, and particularities like what to do in a current. You will also be assigned your buddy, guide and dive group.



Gearing Up
After your dive
The crew will throw you a rope at the end of which is a ball, so that you can just grab hold of it and they will

tow you in

up to the ladder.




Before getting onto the boat, pass your weight belt and fins to the crew, who will place it in your personal dive box. Torches and cameras will be placed in the dunk tank.



Crew will then help you climb the ladder into the boat.



If you surface where the boat cannot reach you (eg shallow coral), they will send the Zodiac speedboat to pick you up. You can choose to get in (good luck - see my tips on how to get onto boats without ladders), or just grab hold of the rope that the crew will toss to you, and you will be towed back to the main boat.



On the boat, crew will assist you in taking off your equipment.



There will be a plate of fresh fruit on the dive platform to greet you after your dive.


---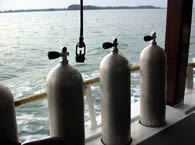 Tanks are refilled from above - pretty cool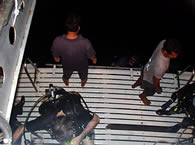 A large dive deck (big enough for 5-6 simultaneous giant strides)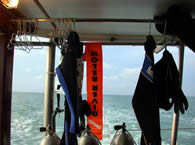 Hangers for wetsuits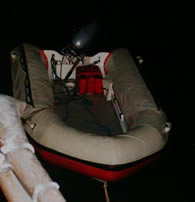 Zodiac speedboat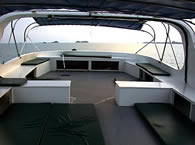 Spacious top deck to take a sunbaking nap