Atlantis Bay Resort
The rooms, housed in neat little chalets (see picture on the right), come with ensuite bathrooms. Quad rooms available.
Airconditioning works well (some rooms have split units with remote control while others use the traditional window units that are very loud but quite soothing).
Beds are comfortable bunk beds (pretty narrow). Metal-frame, with squeaky wire-fence underneath the mattress. If you're heavily built, please climb the ladder to the top bunks SLOWLY otherwise the bed might topple over.
One pillow per bed. Pillow is thin (less than 6 inches thick) but firm. If there are just two of you and you get a quad room, take the spare pillows from the other bunk beds and pile them on top of your own.
One thin but adequate blanket per bed.
Mattresses are thin but comfortable. Bedsheets are bright and colourful. Colour coordination of bed linen has improved from last year.
Windows come with thin curtains. Not blackout though.
No shelves or cupboards although some rooms may have a single shelf over the bathroom sink.
Floors are wooden, with no carpets, so it's nice and cool.
There's a tap outside your door to rinse off your sandy feet.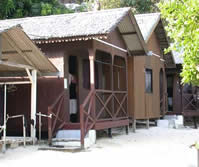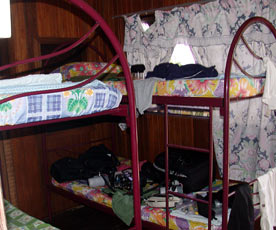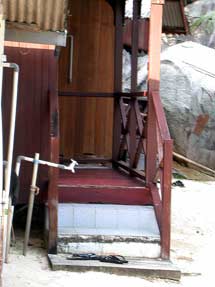 ---
Bathrooms are western-style toilets with standup shower. Some rooms also come with a big basin with hand-basin for mandi-style baths if you're so inclined. Some rooms have the sink in the bathroom while others might have them in the bedroom, just outside the bathroom.
Bath towels are provided. (One towel per bed, so if there are just two of you sharing a quad room you get four towels!)

There was no hot water the last time I went, but I heard that some rooms do have hot water now, so that's a good thing. But if you get the room with no hot water, don't fret, because the water tends to heat up in the daytime so the initial spray is nice and warm if it's been a sunny day.

Extra roll of toilet paper (2-ply) provided in the room.

The bathroom ceiling has a hole in the ceiling to allow natural light. The hole is covered with perspex so the rain won't come through.

The bathrooms may come with one or two harmless resident spiders (about the size of your palm including legs).
While I wouldn't drink the tap water, it's fine for brushing your teeth and washing your hands before handling your contact lenses.
Electricity
Electricity is switched off between 9am and 6pm. But running water is always available. Each room has one standard three-pin powerpoint outlet. If you need to charge your strobe at lunchtime, you can do so at one of the many 3-pin powerpoints in the dining area.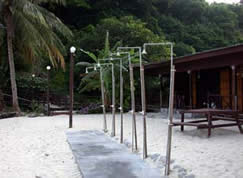 Outdoor Showers
Outdoor showers are convenient ways to shower off the salt water after a dive. At the Atlantis Bay Resort, the showers are literally at the shorefront. There are also showers in the sheltered dive centre. They even have soap dispensers! On a good day, the water is usually warmed by the sun, so it can be quite pleasant.
But please don't use these showers as substitutes for a good clean shower. As good well-brought up ladies, you should still go back to your room and have a proper shower at least twice a day. This is a must for good personal hygiene.
---
The dive centre has:
two

dunk tanks

which are big enough to put your camera in. And since most people leave their equipment on board the boat, the tanks are fairly empty most of the time




showers

sheltered in the dive centre area in case the outdoor ones on the beach are all taken



rods with

hangers

to hang your wetsuits. No knobbly things to hang your booties on though, so just place them on any flat surface to dry.



The unique thing about diving at Aur is that

all your equipment will be left on the boat

throughout your stay. So if you want to rinse your equipment everyday, you will have to bring them on shore on your own, and then back to the boat the next morning. As we transfer from the diving boat via a rickety speedboat to shore, it might be a bit too LC to bring your stuff to shore and anyway you'd be too tired too do it.... No Nitrox :-) But at least everything is a short walk away.
---