March to October is the best time to go for diving. If you go outside these times, the sea can be quite choppy.
Aur is relatively remote compared to its more popular sister Tioman. For land-based resorts, I only know Atlantis Bay Resort. The resort is fairly basic, with clean, air-conditioned rooms, and attached bathrooms (showers).
A more comfortable alternative is a liveaboard. White Manta.com operates two liveaboard dive vessels, the White Manta and the Black Manta. I've tried the White Manta so far (featured here), but hope to try the Black Manta soon so I can feature both.
For the White Manta liveaboard, a weekend costs about S$590 per person (ensuite) and about S$550 per person (no ensuite), including accommodation, 3 meals a day, and 6 dives (including 1 night dive on the Saturday). The Black Manta or a long weekend costs $100-$200 more per person.
For Atlantis Bay Resort, if you sign up with a dive operator, a weekend in Aur costs from S$290 to S$350 per person, including transport, accommodation, 3 meals a day, and 3-4 dives a day. A long weekend costs maybe a tad more. I like to sign up with Living Seas, because they prioritise your safety and look out for you on your dives.
Another good operator is Planet Scuba which has a very good DM called Kevin Lum.(Chivalry Meter: Excellent). That's him below: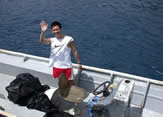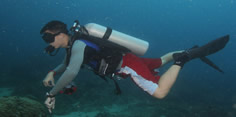 Aur is part of Malaysia, so the currency is Malaysian Ringgit. If you're staying on a land-based resort, the best thing to do is pay for the accommodation in advance through your dive operator, and only bring cash for snacks, drinks, etc. For a weekend, 50 ringgit per person is enough to get by, provided that you don't drink or smoke.
If you're doing the liveaboard option, I prefer to pay in full before the trip (can do by internet banking some more). You will still need to bring some extra Singapore dollars on board to tip the crew at the end of the trip, to pay for the soft drinks or alcohol if applicable, and in case you want to buy the souvenir White Manta t-shirt. S$100 is more than enough unless you're a heavy drinker.
Language
Bahasa Malayu is the national language of Malaysia, but English is understood. Still, people always appreciate it if you can say a few words in their language. eg. Terimakasih = thank you.
However, if you take the White Manta liveaboard, the staff on board the White Manta are Thai, so put on your Thai hat and use phrases like kop kun ka.
Culture
It's ok to walk around in your swimsuit on the liveaboard and in the dive resorts, but do minimise the flesh-baring during the roadtrips to and from Singapore.
---