Your stay includes 3 meals a day, served buffet-style at designated meal times, and afternoon tea. Mealtimes depend on your dive times, and you are pretty much guaranteed of hot food pretty soon after your late morning dive, after your afternoon dive, and after your night dive.
Breakfast includes egg, Western fare like chicken sausages and salad, Asian fare like roti prata, bread or toast with standard spreads like peanut butter, jam, and butter.
Lunch and dinner offers a good range of carbo (rice and noodles), meat and vegetables, with fruit.
Afternoon tea almost always includes fresh fruit, and if you're lucky, goreng pisang (fried banana fritters) hot from the fryer, served with ice-cream.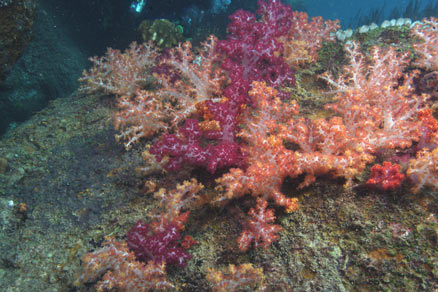 ---
White Manta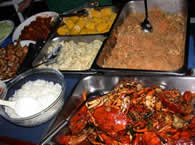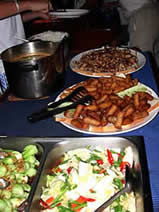 Food is tasty! Your stay includes 3 meals a day, served buffet-style at designated meal times only. Standard fare is:
rice or noodles (or both)
two main dishes to go with rice
a few side dishes like french fries and vegetables
at least one soup
---
On the White Manta:
coffee, tea, milo, sugar, creamer
hot and cold drinking water from the dispenser
At Atlantis Bay Resort:
coffee, tea, and milo with sugar, condensed milk and hot water
sliced bread, peanut butter, jam, margarine and pop-up toaster
instant noodles
hot and cold drinking water served from dispenser
See more pictures of resort and facilities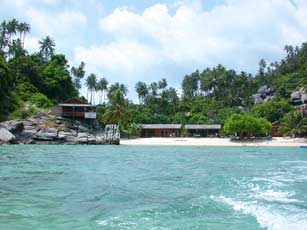 Atlantis Bay Resort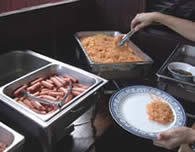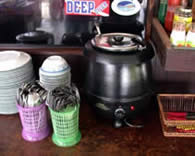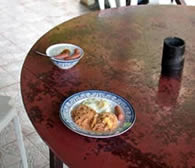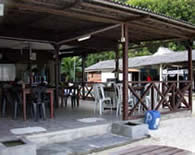 ---
White Manta
Indicate what you took on a clipboard and pay your share on the last day. They will set aside a time for payment before you reach Singapore.
Most soft drinks
100-plus
Beer (didn't try so can't remember what brands they had - I suspect it depends on their last port of call. When I went, it was after a long trip in Similans, so the beer included Thai beer)
Wine
Atlantis Bay Resort
Tiger Beer
2 other types of beer (I think it was Carlsberg and Heineken) - but don't forget, drinking and diving don't go together
Coke
100-plus
To get these, just go to the fridge behind the counter and help yourself. But you must remember to indicate what you have taken on the clipboard hanging on the wall next to the counter. Then you only need to pay for everything when you check out.
---
The staff onboard the White Manta are efficient and observant. They clear your plate when you're done, they top up certain wildly popular dishes when it's running low (eg goreng pisang), and they always ensure that there are clean cups by the water dispenser.
The staff at Atlantis Bay are very helpful, friendly and sociable. Full marks for making your stay very enjoyable.
---