Getting There
If you don't mind spending a wee bit more, take my advice and take the liveaboard from Singapore . The White Manta departs from accessible Keppel Marina, you go to bed at a human hour on a proper bed that remains yours throughout the weekend, and you wake up in time for your first dive. No struggling with the luggage, no waiting on the Mersing jetty and breathing in the whiff of urine from the toilets, no wondering if the low tide will mean a Sangkut Scenario, and best of all, no public toilets and no uncomfortable and sleepless night before your first dive.
I always knew the advantages of a liveaboard, but after actually experiencing it and as I write this now, do I realise how much more convenient it is. Basically, the liveaboard option is so convenient that it totally eliminates the need for me to write down tips on public toilets, tips on the different ferries, and survival tips. Hell, it saves you 10 minutes of reading this website!
But if you don't have a choice and have to go by road, then read on. This is after all, divewithsus.com, always striving to serve!
Ok. Going to Aur is like going to Tioman - you meet at the pick up point (usually the dive centre) at around 7-ish in the evening.
The mini-van or coach will take you to the causeway (Woodlands or 2nd Link - leave it to the driver and/or dive centre). You will make a pit-stop at a petrol station where you can stock up on snacks, go to the bathroom, and for some people, have a smoking break. (Although if you ask me, smoking at a petrol station should really be banned totally.)

Then you will drive on to Mersing. At Mersing, you will go straight to the jetty and get onto the boat.

Chivalry Meter: Zero

TRY TO VISIT THE TOILET BEFORE BOARDING THE BOAT. (You will need your own toilet paper.)

Toilet at Mersing Jetty: Fair. Standard public toilet smell. Wet.
Mersing Ferry Terminal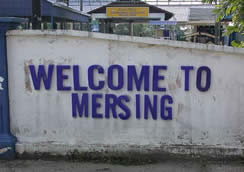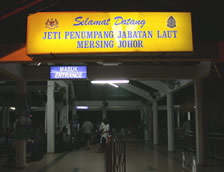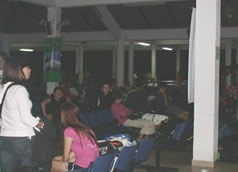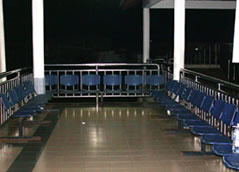 ---
If It's Low Tide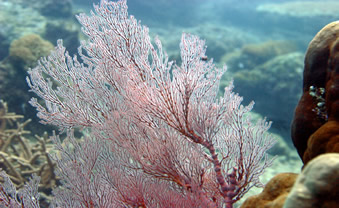 If you go by Mersing, and it's low tide, you will have to get onto a small boat to reach the big boat which will bring you to Aur. Be prepared for the following:
halfway to the big boat, the little boat you're in will 'sangkut' (this means 'caught' or 'hooked' in Malay). Don't worry, the boat man will announce this repeatedly.
the guys on the boat will usually have to get off and push. The water can be as low as mid-calf. As a girl, if you don't intend to help push cheerfully without a word of complaint, just sit still and keep your mouth shut.
after pushing, the little boat may reach a slightly deeper part of water, but may not be able to make it to the big boat. It will hence turn around and go back to the Mersing jetty.
at the Mersing jetty, you will sit on the floor and wait a few hours till the tide is higher. You might get a free hot drink if you're lucky. Otherwise, try to get some sleep (yes, lie down on the floor and rest your head on your bag or your partner). Or read a book. YOU'RE A DIVER NOW.
---
About the Boat from Mersing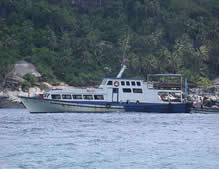 You will know at the time of booking your trip whether you're taking the slow or fast boat. The slow boat is the one that has bunk beds so that you can sleep until you arrive at Aur the next morning.

The fast boat is a normal ferry with seats that will reach Aur in the wee hours of the morning. Then in the second half of 2006, I heard that there's a new super-fast boat that leaves in the morning, which means you can have a restful night in Mersing in a proper hotel with proper beds and hot showers.
If you're taking the slow boat:
grab the upper bunks if you can. They're cooler.
go straight to sleep
there is a bathroom on the boat, but this is a functional boat to get you from point A to point B. It isn't a liveaboard. My advice is: forget about brushing your teeth and changing into your pyjamas. Just go to sleep in whatever you're wearing.
the boat may be rocky. Sleep is the best thing to fend off queasiness. That's why you should take those pills as early as the pit-stop.
If you're taking the fast boat (The Princess):
if you sleep better in cold air-conditioning, go to the front-most section and choose a seat that's in one of the middle rows. But be prepared with winter woollies, blankets or equivalent, otherwise you'll freeze.
go straight to sleep
there is a bathroom on the boat, and it's constantly churning water. Nuff said.
the boat may be rocky. Sleep is the best thing to fend off queasiness. That's why you should take those seasickness pills as early as the pit-stop.
although it's the 'faster' option than the 'sleeping boat', if the weather creates choppy waves, you won't reach Aur much earlier than the slow boat.
The last time we used The Princess, its roof slid from side to side and let in the rain. The good news is that they have fixed the roof so it doesn't slide. But it didn't rain when we used the new improved Princess, so I cannot guarantee that the rain will NOT leak in. If you really want to be prepared, see my Life Saving Tips below.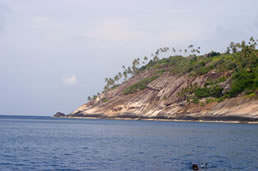 Before you actually reach Aur's shores the next morning, it's likely that you'll either leave your dive gear on The Princess if that's your dive boat, or transfer your dive gear onto another dive boat before going to shore on a smaller boat with the rest of your normal luggage.
Tip: Atlantis Bay Resort doesn't have a pier, so you will be clambering out of the boat and into the water on the beach, before checking into your room. So wear shorts instead of long or three-quarter pants, and rubber flip flops instead of leather Timberland sandals.
Life-Saving Tips
Bring a good book.

Wear shorts and slippers (things which can be submerged into muddy water).

If you're easily seasick, take a pill at the pit-stop.

Don't drink too much water.
Put plastic bags in easy-to-reach places. Make sure they don't have holes in them. You may need them to merlion into.

Bring a sweater or raincoat. If it rains and you're sprayed in the ferry, you will find that draping the raincoat over yourself and even your head, will ensure a drier experience.

Put tissue paper in easy-to-reach places. You never know when you'll need it in a hurry.
Beds on the Slow Boat from Mersing
The bunk beds are wider than a super-single and actually quite comfortable. Each mattress and pillow is very firm, and covered with that latex-y material you find on the seats of old SBS buses. Naturally, there are no bedsheets, down pillows or blankets. (Remember - YOU'RE A DIVER NOW.)

Mattresses are thin but because they're firm, they're not lumpy. The pillows are maybe 6 inches thick, ie. high enough to raise your head comfortably while you sleep.

If you're icky about sleeping on these things, lay out your towel or sarong. I didn't bother, and it's not like I got rashes or lice or anything, so it's really no big deal.